Week-end Wrap - June 23, 2018
by Tony Wikrent
Economics Action Group, North Carolina Democratic Party Progressive Caucus
The Supreme Court Has Decided to Shut Workers Out of the Courthouse for Good
[byCristian Farias, May 21, 2018 New York Magazine, via Avedon's Sideshow]
...the Supreme Court ruled ... that workers who are made to sign arbitration agreements that rule out class or collective lawsuits may not then band together and rely on federal labor law to give them legal recourse to sue their employers anyway. The ruling is a devastating blow to employees who are required to sign arbitration agreements as a condition of employment — according to one report, more than 60 million workers operate under such an arrangement, which effectively forces them to resolve their disputes with their employers in a quasi-judicial hearing rather than in a court of law. Of those, about 25 million are subject to a class-action bar.
So high were the stakes in Epic, that during the hearing for the case — which saw lawyers for employers, workers, the Department of Justice, and the National Labor Relations Board all squaring off with everyone else — Justice Stephen Breyer openly wondered if a ruling for the employers would effectively cut out 'the entire heart of the New Deal.'"
....Dissenting, Justice Ruth Bader Ginsburg and her liberal colleagues called the majority's conclusion "egregiously wrong," and in the process offered a brief history of labor law in the United States. In a sense, they seem to see the Epic controversy as part of a larger retreat of sorts to the Lochner years, when an activist Supreme Court was unafraid to strike down, among other things, child labor laws and other workplace protections under freedom-of-contract principles. That era is long gone, but Ginsburg wouldn't be too far off in fearing a return to it, as some conservatives and libertarians have suggested we should. In one eye-opening footnote, Ginsburg puts the spotlight on some of the parties to this set of cases to undermine the majority's entire premise for its ruling: that arbitration agreements are good and wholesome and statutorily sound because they're freely negotiated between equals:
Were the 'agreements' genuinely bilateral? Petitioner Epic Systems Corporation e-mailed its employees an arbitration agreement requiring resolution of wage and hours claims by individual arbitration. The agreement provided that if the employees 'continue[d] to work at Epic,' they would 'be deemed to have accepted th[e] Agreement.' Ernst & Young similarly e-mailed its employees an arbitration agreement, which stated that the employees' continued employment would indicate their assent to the agreement's terms. Epic's and Ernst & Young's employees thus faced a Hobson's choice: accept arbitration on their employer's terms or give up their jobs.
The link to the "suggestions" by conservatives and libertarians is to a Cato Institute (founded and funded by the Koch brothers and other rich reactionaries) June 2011 book review promoting a Cato book
calling for the historical rehabilitation of the Lochner doctrine
: "The Progressives' anger at the Lochner majority was not thus exclusively about its reasoning, but also to a great degree about its unwillingness to overlook constitutional controls that would limit the creation of a "union-led social democracy in place of a regime of general contractual freedom." " It is short, and worth reading to get a sense of how the conservative and libertarian apparatus is engaged in a far-ranging attack on the achievements in social and economic justice under Democratic Party rule from 1932 until 1968. The framing of this attack is often amazingly sly and insidious:
But, as Bernstein shows, as despised as it was, "Lochnerian protection of liberty of contract was invoked to justify some of the most significant early decisions expanding constitutional protections for the rights of African Americans and women and for civil liberties, often over the strong opposition of Justice Holmes and his Progressive allies."
Note that the conservative and libertarian apparatus is maligning and disparaging the word "progressive" just as it has "liberal" Democrats have yet to similarly frame the words "conservative" and "libertarian" in a negative light.
In her dissent, Justice Ginsburg called on Congress to reopen the judicial system to working Americans by setting strict limits on arbitration. This obviously won't happen so long as the Congress is controlled by either Republicans or corporatist Democrats.
House GOP plan would cut Medicare, Social Security to balance budget
by Erica Warner, Associated Press June 20, 2018 [Denver Post, via Naked Capitalism]
The Republicans are absolutely shameless and obviously think people will not connect the Trump tax cuts with the new jump in national debt.
House Republicans released a budget proposal Tuesday that would balance in nine years – but only by making large cuts to entitlement programs, including Medicare and Social Security, that President Donald Trump has vowed not to touch.
....Nonetheless the budget serves as an expression of Republicans' priorities at a time of rapidly rising deficits and debt. Although the nation's growing indebtedness has been exacerbated by the GOP's own policy decisions – including the new tax law, which most analyses say will add at least $1 trillion to the debt – Republicans on the Budget Committee said they felt a responsibility to put the nation on a sounder fiscal trajectory.
"The time is now for our Congress to step up and confront the biggest challenge to our society," said House Budget Chairman Rep. Steve Womack (R-Ark.). "There is not a bigger enemy on the domestic side than the debt and deficits."
Assets of world's "high net wealth" millionaires surged to $70 trillion in 2017
[World Socialist Web Site SWS
via Naked Capitalism].
Perhaps we should join conservatives in proclaiming taxation is robbery. The difference would be, where banks are robbed because "that's where the money is," we propose to tax the rich, because "that's where the money is."
How the Koch Brothers Are Killing Public Transit Projects Around the Country
by
Hiroko Tabuchi
, June 19, 2018 [New York Times, via Naked Capitalism]
In cities and counties across the country — including Little Rock, Ark.; Phoenix, Ariz.; southeast Michigan; central Utah; and here in Tennessee — the Koch brothers are fueling a fight against public transit, an offshoot of their longstanding national crusade for lower taxes and smaller government.... At the heart of their effort is a network of activists who use a sophisticated data service built by the Kochs, called i360, that helps them identify and rally voters who are inclined to their worldview. It is a particularly powerful version of the technologies used by major political parties.
....In Utah, it handed out $50 gift cards at a grocery store, an amount it said represented what a proposed sales tax increase to fund transit would cost county residents per year.
Another weapon in the Koch arsenal is Randal O'Toole, a transit expert at the Cato Institute, a libertarian think tank in Washington that Charles Koch helped found in the 1970s. Declaring transit "dead" and streetcars "a scam," he has become a go-to expert for anti-transit groups. Crisscrossing the country, he speaks at local events and writes opinion pieces.... Public transit critics have long raised fears that rail projects are a conduit for crime, and Mr. O'Toole himself has made that argument: "Teenagers swarm onto San Francisco BART trains to rob passengers," he warned in a blog post last year.
The front group funded by the Kochs is Americans For Prosperity. Increasing civic participation by getting people out to talk to fellow voters is supposed to be a good thing in a liberal democracy. But as income and wealth inequality become worse, only the wealthy and well off are likely to have the time and resources to support full time political organizers. This is one reason why, in a republic, the rich are as much a threat as a standing army. In August 2015, in
The real reason American public transportation is such a disaster
, Joseph Stromberg on Vox dismissed the conservative and libertarian argument that the United States simply does not have the population density to support good mass transit, by noting that Canada has built much better mass transit, despite a similar population density.
Although history and geography are partly to blame, there's a deeper reason why American public transportation is so terrible. European, Asian, and Canadian cities treat it as a vital public utility. Most American policymakers — and voters — see transit as a social welfare program.
And that is almost entirely the result of conservative and libertarian lies and propaganda, all supported by billions of dollars in support by the reactionary rich. Here is some typical conservative and libertarian anti-investment propaganda, from National Review in May 2016:
High-Speed Rail Is a Fast Train to Fiscal Ruin, in California and Elsewhere
.
Japan has managed to invest in high speed rail, urban mass transit (check out this map of the
Tokyo subway system
and marvel at its density compared to
Los Angeles
) AND begin building the new infrastructure needed to replace gasoline-fueled cars with electric vehicles. From May 2016, two years ago:
Japan now has more electric car charge points than petrol stations
[The Guardian]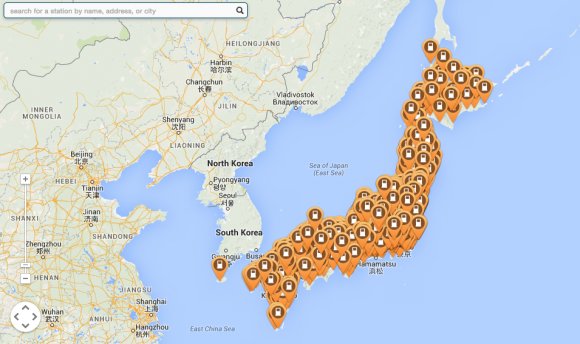 Hyperloop is Chicago-Pittsburgh option
[Rail Group News, June 22, 2018]
The Mid-Ohio Regional Planning Commission (MORPC) has announced that AECOM and WSP USA will act as the lead consultants on the feasibility and environmental impact studies of MORPC's Rapid-Speed Transportation Initiative (RSTI).
Full Article
Stockholm receives first Bombardier LRV
[Rail Group News, June 22, 2018]
The first 96 Bombardier C30 metro trains for Stockholm Local Transport (SL) arrived in the Swedish capital on June 19, with the trains set to enter service on the Red Line in the summer of 2019.
Full Article
Bloomberg New Energy Finance released a new report this week that estimates how electricity generation will change out to 2050. The clean energy analysis firm estimates that in a mere 33 years, the world will generate almost 50 percent of its electricity from renewable energy, and coal will make up just 11 percent of the total electricity mix.
Add in hydroelectric power and nuclear energy, and greenhouse-gas-free electricity sources climb to 71 percent of the world's total electricity generation. The report doesn't offer a terribly bright future for nuclear, however, and after a period of contraction, the nuclear industry's contribution to electricity generation is expected to level off.
Instead, falling photovoltaic (PV), wind, and battery costs will cause the dramatic shift in investment, Bloomberg New Energy Finance (BNEF) notes. "PV and wind are already cheaper than building new large-scale coal or gas plants," the 2018 report says. In addition, BNEF expects that more than $500 billion will be invested in batteries by 2050, with two-thirds of that investment going to installations on the grid and one-third of that investment happening at a residential level.
European Union adopts 32% renewables by 2030 goal
[
Reuters
(6/14),
S&P Global Platts
(6/14) via American Energy Association]
The EU has approved a new goal to source 32% of its total electricity needs from renewables by 2030, with a provision to possibly revise it in 2023. The EU is currently working toward a 20% by 2020 renewables target.
Solar Eclipse Tests the Grid
[
The Plain Dealer (Cleveland)
(6/22) via American Energy Association]
Cleveland is known for having some of the worst air quality in the nation, but could finally turn the tide by joining the Sierra Club's Ready for 100 campaign and pledging 100% renewables, writes campaign coordinator Jocelyn Travis. "We can envision a healthy, thriving Cleveland -- and we can demand it start with a transition to 100 percent clean energy, as soon as today," she writes.
Connecticutt governor signs 40% by 2030 renewables bill
[
Hartford Business Journal (Conn.)
(6/21) via American Wind Energy Association]
Connecticut Gov. Dannel Malloy has signed two new clean energy bills into law, one requiring utilities to acquire 40% of their total electricity from renewables by 2030, and another pledging to reduce the state's greenhouse gas emissions 45% below 2001 levels by the same year. "The time to act is now," he says.
79% of North Carolina Republicans support clean energy
[
WRAL-TV (Raleigh, N.C.)
(6/16) via American Wind Energy Association]
Seventy-nine percent of Republican and 90% of Democratic voters in North Carolina are in favor of clean energy, indicating that support for such energy sources continues to grow regardless of political affiliation, writes Conservatives for Clean Energy President and CEO Mark Fleming, citing a CCE poll. "[C]onservative voters in North Carolina and across the nation are strongly supportive of common sense policies that enable the growth of renewable energy and energy efficiency," he writes.
Opinion: Clean energy is the way of the future
[
The Seattle Times (tiered subscription model)
(6/18) via American Wind Energy Association]
The time has arrived for the US to cast off outdated energy sources, such as coal and nuclear, and embrace new clean energy options that are good for the environment and enjoy the broad support of states, businesses and educational institutions, write Bruce Speight and Kim Rice. "The organizations and governments that are setting goals for a clean-energy future are acknowledging a crucial truth: The future we dream of is only possible if we get our energy systems out of the past," they write.
DNV GL has completed a multiyear study into India's feasibility for offshore wind, paving the way for the country to begin considering the energy source, says the Ministry of New and Renewable Energy. "India has a specific offshore wind policy, a government actively 'gearing up' for offshore and local and overseas stakeholders pro-actively considering this new endeavor," adds DNV GL CEO Ditlev Engel.
Consumers Energy unveiled a plan Wednesday that would close its five remaining coal-burning power plants by 2023 and add 550 megawatts of new installed wind capacity. President and CEO Patti Poppe noted that the utility doesn't see the retirement of nuclear and coal plants as a threat to grid security and supports moving to "a cleaner and leaner energy supply."
Climate change is a serious issue and one that could be addressed quickly by eliminating coal and replacing it with renewables, Pattern Energy President and CEO Michael Garland said after attending a climate change meeting hosted by Pope Francis this week. "We felt honored to be there. We added just enough flavor on the renewable side to make it interesting," he said.
New Airbus Narrowbody Line Is Blueprint For Future Production System
by
Jens Flottau
, June 18, 2018 [Aviation Week & Space Technology]
"This is a quantum leap for us," says Klaus Roewe, senior vice president for the A320 program. To Guillaume Faury, president of Airbus Commercial Aircraft, Airbus is now "in the early stages of a revolution," and the "revolution is becoming a reality." Robotics, digitalization and increased automation are key aspects of what has been introduced in Hamburg, parts of which are to be transferred across Airbus' production system—possibly including the new Bombardier C Series final assembly line construction, set to be started in 2019.
"In a world of digital nomads, we will all be made homeless"
[
Guardian
, 6-20-18, via Naked Capitalism].
On WeWork and and "co-working"* spaces: "It is telling that this blurring of work and leisure, and the fading-out of any meaningful notion of home, is reflected at every level of the tech industry – from shared houses that double as start-up 'incubators' (see the hit HBO comedy Silicon Valley), through the co-working and co-living spaces springing up in urban China, to the factories in the same country where workers churning out iPhones sleep in dormitories. The erosion of any barrier between grafting and downtime is reflected in big tech's innate insistence that we are 'on' at all times – checking our feeds, sending emails, messaging colleagues. You see the same things even more clearly among rising numbers of networked homeworkers – translators, CV writers, IT contractors, data inputters – whose lives are often a very modern mixture of supposed flexibility, and day-to-day insecurity…. Marx and Engels said that the bourgeoisie could not exist 'without constantly revolutionising the instruments of production, and thereby the relations of production, and with them the whole relations of society'; Tony Blair told us that the world of globalisation has 'no custom or practice', and gives rewards only to those 'swift to adapt, slow to complain, open, willing and able to change'. And here, perhaps, is the ultimate proof. After a couple of centuries during which capitalism has recurrently tried to kill the inconvenient human need for domestic spaces where people can escape economic demands (witness such inventions as workers' hostels and old-fashioned company towns), that same tendency is being newly dressed up as a matter of aspiration and personal freedom."
Life, Liberty, and Trade Secrets: Intellectual Property in the Criminal Justice System
by Rebecca Wexler [Stanford Law Review, via Naked Capitalism]
The criminal justice system is becoming automated. At every stage, from policing to evidence to parole, machine learning and other computer systems guide outcomes. Widespread debates over the pros and cons of these technologies have overlooked a crucial issue: ownership. Developers often claim that details about how their tools work are trade secrets and refuse to disclose that information to criminal defendants or their attorneys. The introduction of intellectual property claims into the criminal justice system raises undertheorized tensions between life, liberty, and property interests.
This Article offers the first wide-ranging account of trade secret evidence in criminal cases and develops a framework to address the problems that result. In sharp contrast to the general view among trial courts, legislatures, and scholars alike, this Article argues that trade secrets should not be privileged in criminal proceedings. A criminal trade secret privilege is ahistorical, harmful to defendants, and unnecessary to protect the interests of the secret holder. Meanwhile, compared to substantive trade secret law, the privilege overprotects intellectual property. Further, privileging trade secrets in criminal proceedings fails to serve the theoretical purposes behind either trade secret law or privilege law. The trade secret inquiry sheds new light on how evidence rules do, and should, function differently in civil and criminal cases.
Why Are There So Damn Many Ubers in New York City?
by Josh Fruhlinger, June 15, 2018 [Village Voice via Naked Capitalism]
But America in 2015 was no longer the land of FDR and the New Deal. Uber fought back, hard, deploying politically connected (and liberal) surrogates like David Plouffe and Al Sharpton, and showing customers a "de Blasio mode" on their phones where their rides would take 25 minutes to arrive if the regulation became law. De Blasio's perennial antagonist Governor Cuomo also weighed in against him, and City Hall eventually gave up, settling for a toothless agreement for Uber to share data with the city about traffic and restrict its growth to its existing level (which was a heady 3 percent a month).
The motivating force, ethical appeal, and emotional purchase of the neoliberal image of the market have all too often eluded progressive critics. To the extent that they have recognized the affective aspects of neoliberal politics, they have tended to focus on its alliances with neoconservative philosophies and to view these as instrumental and external. According to such accounts, neoconservatives have legitimated laissez-faire economics and private enrichment through appeals to conservative religious values, and large sections of the American public have been curiously unable to see through this obvious hypocrisy – often giving rise to a despair at the people's irrationality. Such approaches conceive of the legitimating spirit of neoliberalism as an external ideological moment, portraying populists' loyalty to neoliberal discourses as a kind of cognitive impairment or moral failure.
To understand this properly, we need to attend carefully to what has sustained the legitimacy of neoliberalism. A key point of reference here is of course the financial crisis of 2007-2008, which was widely seen as heralding the end of neoliberalism. Explanations for why neoliberalism is at present still operational have tended to focus on the ability of financial elites to capture public discourses and institutions. But capture explanations are intellectually defensive, framed to provide a more or less plausible reason for something that was expected to occur yet has not rather than to explain what in fact happened. The question that needs answering is precisely how elites could continue to access such tremendous material, institutional, symbolic, and other resources even in a context where discontent with key neoliberal institutions was at an all-time high and the political air was thick with contempt and distrust towards bankers.
General Electric Co. (GE) was dropped from the Dow Jones Industrial Average
on June 26, 2018. [
Wall Street on Parade
, June 20, 2018]
GE was replaced in the DJIA by retail drugstore chain, Walgreens Boots Alliance (WBA). Not sure why Wall Street insists on calling it an "Industrial" index, but clearly the post-industrial Kool-Aid has been drunk by everyone. WSoP suggests it was because GE's stock price has collapsed in the past two years. Can't have the most famous indicator of the stock market reflect anything negative about an economy that is supposed to be "booming", right?
The latest issue of Real World Economics Review is out.
It is a special issue on the public economy and a new public economics.
Download here
. The Table of Contents does not yet appear on the website, and you fave to register (free) to download the new issue.
I encourage people to read any article that interests them, and write a summary of it for submission. Excerpting what amounts to four or five complete paragraphs is fine under fair use. The more people contributing, the more we all will learn and know. And knowledge is power -- about the only kind of power we have on our side.
Edited by Michael Bernstein and June Sekera
Reconstructing a public economics: markets, states and societies 2
Michael A. Bernstein
download pdf
The public economy: understanding government as a producer. 36
A reformation of public economics
June Sekera
download pdf
Economic benefits of public services 100
David Hall
and
Tue Anh Nguyen
download pdf
Bureaucracy shouldn't be a dirty word:
the role of people-responsive bureaucracy in a robust public economy 154
Janine R. Wedel
download pdf
The need for a new public administration 170
James K. Galbraith
download pdf
Industrial policy, then and now 178
Victoria Chick
download pdf
Putting the nation-state back in: public economics and the global economy 189
Michael Lind
download pdf
The entrepreneurial state: socializing both risks and rewards 201
Mariana Mazzucato
download pdf