Week-end Wrap – Political Economy – December 1, 2019
by Tony Wikrent
Economics Action Group, North Carolina Democratic Party Progressive Caucus
Strategic Political Economy
The Failure of Liberal Politics
: Canadian interview of political philosopher Michael Sandel
"The rise of right wing populism represents the failure of liberal and progressive politics," says Harvard political philosopher Michael Sandel. He joins The Agenda to diagnose the failure of liberal politics, the decline of civic life, and what liberals need to know in the age of anger and populism.
From the
transcript
:
SANDEL: Two decades ago when I wrote the book that you just generously quoted from, I got a lot of resistance from my liberal and progressive friends who thought I was worrying unnecessarily, that liberalism was more or less intact, and that the embrace by liberalism of the global economy and even market mechanisms would be a way to avoid controversy in politics, a way of avoiding the contentiousness that arises when we engage in morally robust questions in public life. i thought that was a mistake. I thought that was hollowing out public discourse, creating a kind of vacuum that was dangerous. And so we see.
INTERVIEWER: Somebody filled the vacuum.
SANDEL: Yes. And not only in the U.S., but with the rise of right wing kind of ultra nationalist populism in many European countries, I think we see this vacuum being filled. People sensed that after three to four decades of a kind of base that markets would decide tough public questions for us, democratic citizens are impatient with too empty a public discourse. They want politics to be about big things and also about values, about moral questions, about justice and inequality and what it means to be a citizen. And when liberal and progressive voices fail to offer that kind of politics, when they became largely technocratic in their approach, that vacuum was filled by narrow, intolerant voices and the kind of strident nationalism we see today.
How America's Elites Lost Their Grip
Anand Giridharadas [Time, via Naked Capitalism 11-24-19]
The mercy of all this elite failure and backlash is this: the ongoing collapse of any pretense of selflessness among the winners of our new Gilded Age.
If a single cultural idea has upheld the disproportionate power of this class, it has been the idea of the "win-win." They could get rich and then "give back" to you: win-win. They could run a fund that made them sizable returns and offered you social returns too: win-win. They could sell sugary drinks to children in schools and work on public-private partnerships to improve children's health: win-win. They could build cutthroat technology monopolies and get credit for serving to connect humanity and foster community: win-win.

As this seductive idea fizzles out, it raises the possibility that this age of capital, in which money was the ultimate organizing principle of American life, could actually end. Something could actually replace it. After all, a century ago, America was firmly planted in the first Gilded Age—and then it found its way into the Progressive Era and the New Deal, an era of great public ambition. Business didn't go away; it wasn't abolished; capitalists didn't go into gulags. It was just that the emphasis of the society shifted. Money was no longer the lodestar of all pursuits.

The choice facing Americans is whether we want to be a society organized around money's thirsts, a playground for the whims of billionaires, or whether we wish to be a democracy.
670 Years of Interest Rate History
[Visual Capitalist, via The Big Picture 11-24-19]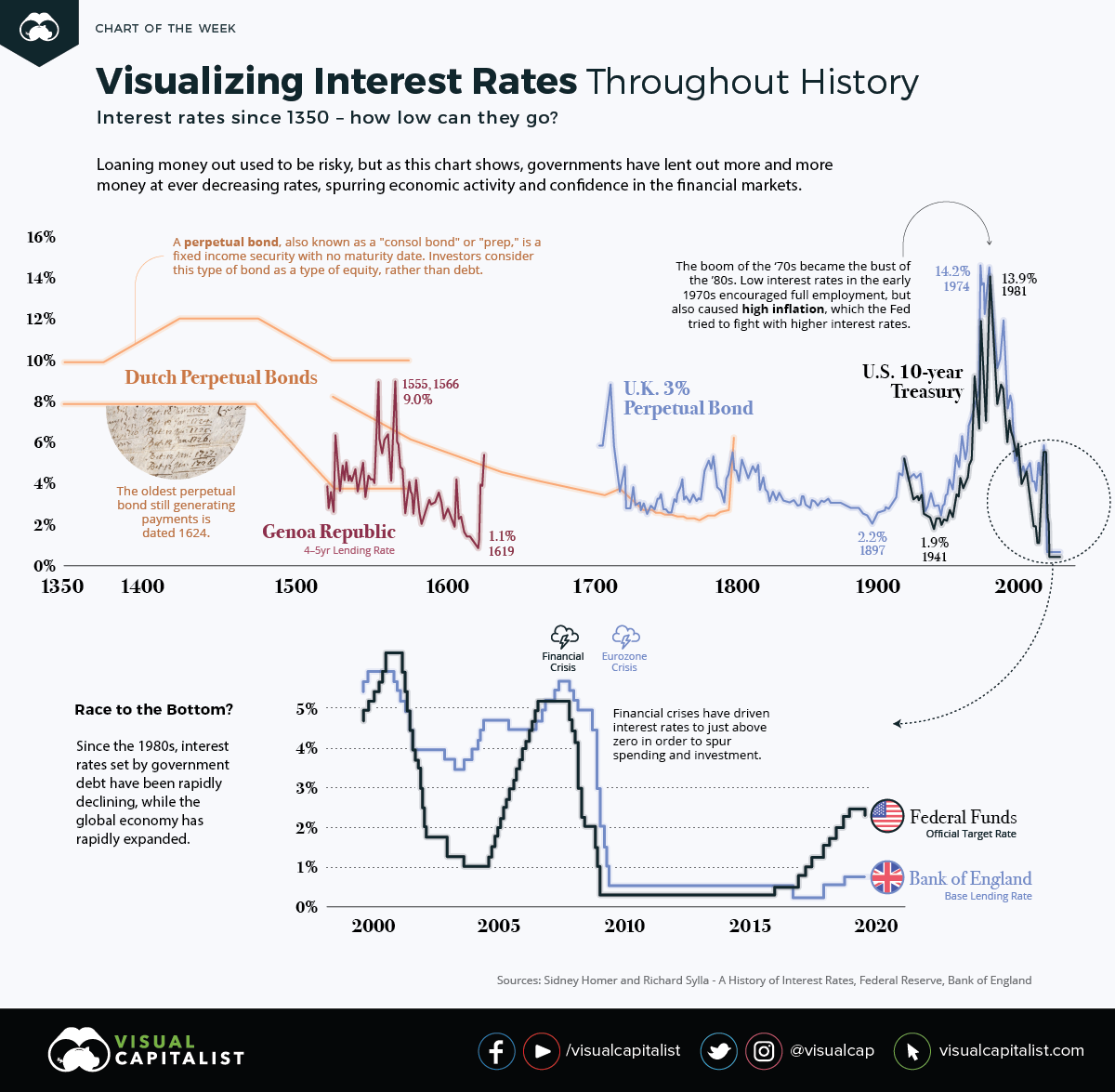 Job Loss Predictions Over Rising Minimum Wages Haven't Come True
[Axios, via Naked Capitalism 11-26-19]
"The minimum wage increase is not showing the detrimental effects people once would've predicted," Diane Swonk, chief economist at international accounting firm Grant Thornton, tells Axios. "A lot of what we're seeing in politics is old economic ideology, not what economics is telling us today."
The great American labor paradox: Plentiful jobs, most of them bad
[
Quartz
, via The Big Picture 11-24-19]
[Researchers] recently unveiled the US Private Sector Job Quality Index (or JQI for short), a new monthly indicator that aims to track the quality of jobs instead of just the quantity. The JQI measures the ratio of what the researchers call "high-quality" versus "low-quality" jobs, based on whether the work offer more or less than the average income.
A reading of 100 means that there are equal numbers of the two groups, while anything less implies relatively lower-quality jobs....
"The problem is that quality of the stock of jobs on offer has been deteriorating for the last 30 years," says Dan Alpert, an investment banker and Cornell Law School professor who helped create the index. (Along with Alpert, the index is built and maintained by researchers at Cornell University Law School, the Coalition for a Prosperous America, the University of Missouri-Kansas City, and the Global Institute for Sustainable Prosperity.) The "whole story" told by the index, he adds, is "the devaluation of American labor."
Yep - this is what you get when you toss out the economic policies that actually built the USA, such as the Doctrine of High Wages.
The Carnage of Establishment Neoliberal Economics
"Death is the biggest issue in the 2020 election"
[
Quartz
, via Naked Capitalism 11-27-19]
"Apocalyptic political rhetoric in the US might not be that far off base: US life expectancy is falling for the first time since the 1950s, particularly where president Donald Trump and the eventual Democratic presidential nominee will contest the 2020 election…. And more to the nub of the national discourse, the largest increases in mortality have taken place in the states that could be determinative in next year's presidential elections, including Ohio, Pennsylvania, Michigan, and Florida…. The Democrats challenging Trump will certainly draw a contrast with their plans for the government to tackle the increase in mortality, from treating drug addiction like a public health problem to gun safety legislation."
"Dying too young: Deaths among middle-aged adults reversing life expectancy trends"
[
NBC News
, via Naked Capitalism 11-27-19]
"An increasing number of Americans are dying in the prime of their lives, a trend not observed in other wealthy nations, according to research published Tuesday in the Journal of the American Medical Association. These 'excess deaths' — that is, people who die years and even decades before they're expected to — tend to be clustered in the nation's Rust Belt, where economies once boomed with a thriving steel industry, but have been in decline since the 1970s."
Lambert Strether points out what should be obvious: "... if the political class cared about statistics like this, it would be a political issue;
Case Deaton published in 2017
, after all. They either don't care, or they're actively seeking this result (cf. "ok boomer," while, ya know, people of that age cohort are dying, before they even had a chance to get to the ice floes. It's disgusting and enraging). Handy chart:"
[Times-Picayune, via Naked Capitalism 11-25-19]
[MarketWatch, via Naked Capitalism 11-26-19]
Economic disequilibrium
Think celebrities and CEOs make way too much money? Check out this chart
[Marketwatch, via Naked Capitalism 11-27-19]
[Twitter, via Naked Capitalism 11-25-19]
US billionaires philanthropic giving: - Gates, Buffett: annual giving ~3%–4% of their wealth - Other top 20 billionaires: ~0.3% of their wealth. Like a tiny, tiny wealth tax I made a table for you
Thomas Piketty's Capital in the Twenty-First Century is Now a Movie
[Worth, via The Big Picture 11-29-19]
"The one percent slogan actually comes from French Revolution. That's where the Occupy Movement got it from. I didn't know that until I started making this film, but that was one of the things Thomas told me. In Paris just before World War I, 1 percent of the people owned 70 percent of the land. One of the things he found most alarming is that the level of inequality in America and in Britain today is at the same levels it was in France and Britain before World War I."
Walmart Dodged US Tax on $2 Billion by Routing Cash Through Multiple Countries, Whistleblower Says
[Quartz, via Naked Capitalism 11-30-19]
Information Age Dystopia
"Ruthless Quotas at Amazon Are Maiming Employees"
[The Atlantic, via Naked Capitalism 11-26-19]
"[Candice Dixon] started the job in April 2018, and within two months, or nearly 100,000 items, the lifting had destroyed her back. An Amazon-approved doctor said she had bulging discs and diagnosed her with a back sprain, joint inflammation, and chronic pain, determining that her injuries were 100 percent due to her job. She could no longer work at Amazon. Today, she can barely climb stairs. Walking her dog, doing the dishes, getting out of her chair—everything is painful. According to her medical records, her condition is unlikely to improve. So this holiday-shopping season, as Amazon's ferocious speed is on full display, Dixon is at a standstill. She told Reveal in mid-October that her workers'-compensation settlement was about to run out. She was struggling to land a new job and worried she'd lose her home."
Two new investigations find that some Amazon warehouses have injury rates as high as triple the industry average
"When an Amazon worker was killed by a forklift in a Plainfield warehouse in 2017, the state of Indiana's investigator found the company was at fault. The state cited Amazon for four major safety violations and fined it $28,000. But an investigation by Reveal from The Center for Investigative Reporting has found that, as Gov. Eric Holcomb sought to lure Amazon's HQ2 to Indiana, state labor officials quietly absolved Amazon of responsibility. After Amazon appealed, they deleted every fine that had been levied and accepted the company's argument — that the Amazon worker was to blame. The investigator on the case, John Stallone, had arrived at the warehouse a day after 59-year-old Phillip Lee Terry was crushed to death. He was so troubled by the pushback he was getting from higher-ups that he secretly recorded his boss, Indiana OSHA Director Julie Alexander, as she counseled the company on how to lessen the fine. 'It's like being at a card table and having a dealer teach you how to count cards,' Stallone said."
[The New Republic, via Naked Capitalism 11-25-19]
[New Atlas, via Naked Capitalism 11-30-19]
[World Economic Forum, via The Big Picture 11-29-19]
Erecting a new building ranks among the most inefficient, polluting activities humans undertake. The construction sector is responsible for nearly 40% of the world's total energy consumption and CO2 emissions, according to a UN global survey (pdf).

A consortium of Swiss researchers has one answer to the problem: working with robots. The proof of concept comes in the form of the DFAB House, celebrated as the first habitable building designed and planned using a choreography of digital fabrication methods.

The three-level building near Zurich features 3D-printed ceilings, energy-efficient walls, timber beams assembled by robots on site, and an intelligent home system. Developed by a team of experts at ETH Zurich university and 30 industry partners over the course of four years, the DFAB House, measuring 2,370 square feet (220 square meters), needed 60% less cement and has passed the stringent Swiss building safety codes.
[Aviation Week and Space Technology 11-26-19]