Week-end Wrap – Political Economy – May 3, 2020
by Tony Wikrent
Economics Action Group, North Carolina Democratic Party Progressive Caucus
Strategic Political Economy
Organizing for Survival in New York City
[Commune, via Naked Capitalism 4-26-20]
China Spends $600 Billion To Trump America's Economy
[Forbes, May 1, 2020]
Ten years from now, when economists mull the exact moment the U.S. ceded the future to China this week's events are sure to top the list of time-stamp candidates.
This was the week, after all, when Chinese President Xi Jinping tossed another 4 trillion yuan, or $565 billion, at an economy taking devastating coronavirus blows....
Within the same 24 hours during which Xi's announced a nearly $600 billion plan to build even more airports, railways and power grids, Senate Majority Leader McConnell gave the thumbs down to comparable upgrades to America's economic hardware. "Infrastructure is unrelated to the coronavirus pandemic that we're all experiencing and trying to figure out how to go forward," McConnell said.
Music to Xi's ears. The trillions of dollars his government lavished on the "Made in China 2025" extravaganza is already positioning China to lead the future of artificial intelligence, automation, micro-processing, renewable energy, robotics, self-driving vehicles, you name it. And Trump made it easy for Xi. As China prepares for the global economy it will confront in 2025, Trump is making coal great again.
Why Mitch McConnell Wants States to Go Bankrupt
David Frum, April 25, 2020 [The Atlantic]
Note this is by former Bush Jr. speech writer Frum, so represents thinking inside the Republican party elites.
State bankruptcy is not some passing fancy. Republicans have been advancing the idea for more than a decade. Back in 2011, Jeb Bush and Newt Gingrich published a jointly bylined op-ed advocating state bankruptcy as a solution for the state of California. The Tea Party Congress elected in 2010 explored the idea of state bankruptcy in House hearings and Senate debates. Newt Gingrich promoted it in his run for the 2012 Republican presidential nomination.... A bankruptcy is not a default.... A default is a sovereign act. A defaulting sovereign can decide for itself which—if any—debts to pay in full, which to repay in part, which debts to not pay at all. Bankruptcy, by contrast, is a legal process in which a judge decides which debts will be paid, in what order, and in what amount....
Since 2010, American fiscal federalism has been defined by three overwhelming facts.
First, the country's wealthiest and most productive states are overwhelmingly blue. Of the 15 states least reliant on federal transfers, 11 are led by Democratic governors. Of the 15 states most reliant on federal transfers, 11 have Republican governors.
Second, Congress is dominated by Republicans. Republicans controlled the House for eight of the last 10 years; the Senate for six. Because of the Republican hold on the Senate, the federal judiciary has likewise shifted in conservative and Republican directions.
A state bankruptcy process would thus enable a Republican Party based in the poorer states to use its federal ascendancy to impose its priorities upon the budgets of the richer states.
Regional compacts on #COVID19
[Twitter, via Naked Capitalism Water Cooler 4-28-20]
The fabric of the Union begins to unravel under the pressure of Trump's incompetence and Republican intransigence
.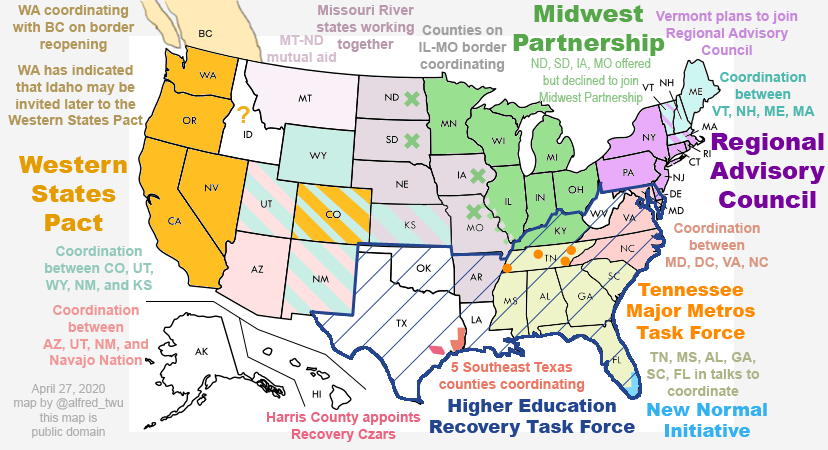 Grover and the Bathtub
Barry Levinson [Huffington Post, December 6, 2017]
Grover Norquist, who was the forerunner of devalued English, continues to lead the charge in the 21st century. He continues to say his goal is to shrink government and then drown it in the bathtub. But what he is really saying is I want a revolution, I want to overturn this democracy and create a new government.... What is the metaphor? He said he wants to kill the government in a bathtub. The only substitute is overturn the government. He is a revolutionary like Lenin or Mao. He doesn't believe in the system. He just doesn't want to say it with as much clarity as they did....
If you just want to lower taxes is it necessary to drown the government in a bathtub? Simply say you want a lower tax code. Period. Drown the tax code, if you will. But he wants to drown the government of the United States. Kill what the founding fathers fought for....
He states his goals in devalued English. That way he remains respectable. Let me ask you a question: Norquist says he is trying to change the tone in the state capitals and turn them toward bitterness and partisanship. How do you interpret that? I'll tell you. He doesn't believe in a democracy because it's obvious that he does not believe in an exchange of ideas. A democracy is based on the power of the people. He doesn't believe in the people. What he is saying in using devalued English is I want absolute power and I have contempt for those who don't agree. He uses the idea of state legislators as the shield for what he really wants. He wants power, control. Devalue the language, my friend. Make it murky. Remove clarity. Get attention. It's the new form of lying.
The Pandemic
CLUSTER BOMBS Coronavirus map shows the 22 hotspots where cases could explode as eight states lift lockdowns
[The U.S. Sun, via Naked Capitalism 5-1-20]
[Axios, via Naked Capitalism 5-1-20]
Ian Welsh, May 1, 2020
They can't even manage proper testing for 100 Senators!? This is genuine failed state stuff.
As best I can see, the US has been coasting on institutions and infrastructure built primarily by the Lost, GI and Silent generations. Every generation after that has been drawing down the American patrimony. Almost nothing works properly that wasn't built or at least started by those generations.
Modern elites, with a few exceptions, are simply rent extractors, financial elites competing to eat as much of the pie as possible.... But when the elites can't even protect themselves? When they can't even put together 100 tests for some of the most powerful people in the country? That's insane. That's straight failed state stuff.
Presymptomatic SARS-CoV-2 Infections and Transmission in a Skilled Nursing Facility
(article)
[New England Journal of Medicine, via Naked Capitalism 4-26-20]
[New England Journal of Medicine, via Naked Capitalism 4-26-20]
Symptom-based screening alone failed to detect a high proportion of infectious cases and was not enough to control transmission in this setting.... A new approach that expands Covid-19 testing to include asymptomatic persons residing or working in skilled nursing facilities needs to be implemented now.
My read is that there are now millions of people infected who do not show symptoms but are in fact infectious, and in USA will therefore not be tested. Until a truly massive program of universal national testing begins, it is literally suicide to leave self isolation. Sounds like a job for Big Government. Oh, wait....
We Still Don't Know How the Coronavirus Is Killing Us
David Wallace-Wells
[New York Magazine, via Naked Capitalism 4-27-20]
"[T]he degree to which doctors and scientists are, still, feeling their way, as though blindfolded, toward a true picture of the disease cautions against any sense that things have stabilized, given that our knowledge of the disease hasn't even stabilized." We have linked to most of the ways that doctors and scientists have been "feeling their way" as matters developed, but this is an excellent aggregation. A must-read.
"Prevalence of SARS-CoV-2 Infection in Residents of a Large Homeless Shelter in Boston"
[Journal of American Medical Association, via Naked Capitalism Water Cooler 4-28-20]
From the abstract: "A total of 147 participants (36.0%) had PCR test results positive for SARS-CoV-2. Men constituted 84.4% of individuals with PCR-positive results and 64.4% of individuals with PCR-negative results. Among individuals with PCR test results positive for SARS-CoV-2, cough (7.5%), shortness of breath (1.4%), and fever (0.7%) were all uncommon, and 87.8% were asymptomatic."
[Twitter, via Naked Capitalism 4-27-20]
John Burn-Murdoch @jburnmurdoch NEW: a lot of data on reported Covid deaths is highly suspect, so we've been looking into excess mortality — how many more people than usual have been dying around the world in recent weeks?
Is the developing world sleepwalking into disaster?
[Raidió Teilifís Éireann, Ireland's National Public Service Broadcaster, via Naked Capitalism 4-26-20]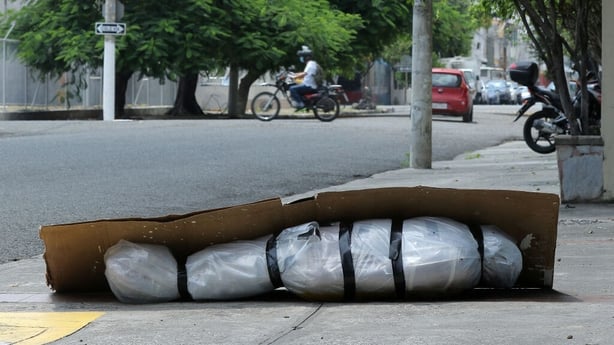 [Axios, via Naked Capitalism 4-26-20]
[STAT, via Naked Capitalism 4-26-20]
This was the brightest story:
Jason lives in a city hostel established for homeless individuals who are in quarantine and isolation. He told me that the rules are strict and that all of his needs are being met without him having any problem adhering to isolation. Before getting sick, he had found freelance work and was living in a shelter. I came away from that conversation amazed to hear how people can thrive when their basic needs are met.
RIP Dr. Lorna M. Breen, medical director emergency department at NewYork-Presbyterian Allen Hospital
[DailyKos 4-27-20]
NYT excerpt: "It was not clear why Dr. Breen would have taken her own life. She did not have a history of mental illness, her father said. But he said that when he last spoke with her, she seemed detached, and he could tell something was wrong. She had described to him an onslaught of patients dying before they could even be taken out of ambulances."
[Palo Alto Online, via Naked Capitalism 4-26-20]
At some point, we will have to get around to judging the impact of MBAs and professional management training in these crises. I hope appropriate justice will be meted out, but I doubt it.
[The New Yorker, via Naked Capitalism 4-27-20]
"Seattle's approach to COVID-19 mirrored E.I.S.'s guidelines. New York's did not."
For more than a week, [infectious-disease specialist Dr. Francis] Riedo had been e-mailing with a group of colleagues who included Seattle's top doctor for public health and Washington State's senior health officer, as well as hundreds of epidemiologists from around the country; many of them, like Riedo, had trained at the Centers for Disease Control and Prevention, in Atlanta, in a program known as the Epidemic Intelligence Service. Alumni of the E.I.S. are considered America's shock troops in combatting disease outbreaks. The program has more than three thousand graduates, and many now work in state and local governments across the country. "It's kind of like a secret society, but for saving people," Riedo told me. "If you have a question, or need to understand the local politics somewhere, or need a hand during an outbreak—if you reach out to the E.I.S. network, they'll drop everything to help."
[Nature, via Naked Capitalism 4-28-20]
Hong Kong seems to have given the world a lesson in how to effectively curb COVID-19. With a population of 7.5 million, it has reported just 4 deaths. Researchers studying Hong Kong's approach have already found that swift surveillance, quarantine and social-distancing measures, such as the use of face masks and school closures, helped to cut coronavirus transmission — measured by the average number of people each infected person infects, or R — to close to the critical level of 1 by early February. But the paper, published1 this month, couldn't tease apart the effects of the various measures and behavioural changes happening at the same time.
Working out the effectiveness of the unprecedented measures implemented worldwide to limit the spread of the coronavirus is now one of scientists' most pressing questions. Researchers hope that, ultimately, they will be able to accurately predict how adding and removing control measures affects transmission rates and infection numbers. This information will be essential to governments as they design strategies to return life to normal, while keeping transmission low to prevent second waves of infection. "This is not about the next epidemic. It's about 'what do we do now'?" says Rosalind Eggo, a mathematical modeller at the London School of Hygiene and Tropical Medicine (LSHTM).
Scientists were close to a coronavirus vaccine years ago. Then the money dried up.
[NBCNews, March 5, 2020]
For weeks, Hotez has been reaching out to pharmaceutical companies and federal scientific agencies — and even the Medical Research Council in the United Kingdom — asking them to provide the roughly $3 million needed to begin testing the vaccine's safety in humans, but so far none have done so.

"We've had some conversations with big pharma companies in recent weeks about our vaccine, and literally one said, 'Well, we're holding back to see if this thing comes back year after year,'" Hotez said.
The two rules of neolioberalism: 1) Because, markets! 2) Go die.
"Op-Ed: Yes, the government can restrict your liberty to protect public health"
[
Los Angeles Times
, via Naked Capitalism Water Cooler 4-30-20]
"There have been very few Supreme Court cases involving the government's power to deal with the spread of communicable diseases. The most relevant decision for today was issued in Jacobson vs. Massachusetts in 1905. In that case, the Supreme Court upheld the constitutionality of a state law requiring compulsory vaccinations against smallpox. The court declared, 'Upon the principle of self-defense, of paramount necessity, a community has the right to protect itself against an epidemic of disease which threatens the safety of its members.' The court explicitly rejected the claim that "liberty" under the Constitution includes the right of individuals to make decisions about their own health in instances where those decisions could endanger others. But the court also made clear that restrictions imposed by the government to control communicable diseases must have a 'real or substantial relation' to protecting public health. Under this standard, there is no doubt that quarantine, 'shelter in place, and closure requirements are constitutional as a way of stopping the spread of COVID-19, even though they restrict freedom."
Progressive policies into the breach
Here's How to Cover Uninsured Americans During the Pandemic: Empowering Medicare to cover our health needs is comprehensive and cost-effective.
Senator Bernie Sanders, April 28, 2020 [CommonDreams]
But there's another, better way to guarantee that everyone in America gets all the health care they need, without cost, for the duration of the pandemic: Empower Medicare to pay all of the health care costs for the uninsured, as well as all out-of-pocket expenses for those with existing public or private insurance, for as long as this pandemic continues. Our Health Care Emergency Guarantee Act is more comprehensive than Trump's vague proposal and less expensive than the Democrats' COBRA expansion.
Let's be clear: Even before this crisis began, 87 million Americans were uninsured or underinsured—struggling to get to a doctor when they needed to. Now the situation is much worse.
There is no doubt that the health care crisis we are facing right now is an emergency. Already, an estimated 9.2 million workers have lost their employer-sponsored insurance, and as many as 35 million people might lose coverage by the end of the crisis.
Can public banks rescue distressed states? Virtual public banking Town Halls
[Public Banking Institute 5-2-20]
New York State Town Hall - Tuesday, May 5, 3:00pm ET | Facebook live:
The public is invited to join New York State Senator James Sanders Jr, fellow State Senators and Assembly Members, and panelists that include Public Banking Institute Advisory Board members Dr. Amara Enyia, Emma Chappell and Prof. Michael Hudson for a roundtable discussion, "Public Banking : An Alternative Solution to Restart the Economy Post COVID-19," via Facebook live on Tuesday May 5th at 3:00pm.
NYC Town Hall - Thursday May 7, 6:30pm ET | virtual event
Statewide residents can join Public Bank NYC at 6:30pm ET on Thursday, May 7th for a timely and participatory virtual town hall "From Crisis to Recovery: NY's Fight for Public Banking."
[ParentsTogether, via Naked Capitalism 4-30-20]
[Huffington Post, via Naked Capitalism 4-30-20]
Pelosi puts $1 trillion price tag on state and local virus needs
[Roll Call, via Naked Capitalism 5-1-20]
State governments could be short $650 billion over the next three years — well above what governors are currently seeking — according to a study by the Center on Budget and Policy Priorities, a left-leaning think tank....

The earlier round of state and local aid was targeted only to states and localities with a population of at least 500,000 residents. Pelosi has talked about providing three separate pots of money in a new package so that some of the future aid would be allotted to smaller cities and towns.
"With municipalities and counties, we're going to have a separate account for them because many of them don't really get what they need from the state," she told CNN. "So we're going to have separate direct support for townships even as low as 50,000 and below and this is a very big change."
[Politico, via Naked Capitalism 5-1-20]
[WISH, via Naked Capitalism 5-1-20]
[China Law Blog, via Naked Capitalism 5-1-20]
Last week, Fred Rocafort (one of our international trade lawyers), Dan Pak (a VP of Procurement at a large East Coast hospital chain) and I put on a 90+ minute webinar on navigating PPE purchases from China. Based on the feedback we have received and the fact that a number of webinar companies have asked us to reprise it for them, we think it was a success. And by success, I mean only that those who attended left the webinar (though staying at home) with actionable information.
The company that put on the webinar — a leading legal webinar/seminar company — told us they had never put on an event where so many questions were asked. The webinar was about 45 minutes of the three of us talking and then another 45 minutes of us answering questions, but even that was not enough. We got so many questions that we promised to answer them here on the blog and we do that below.
[Guardian, May 1, 2020]
A third of American households – about 120 million people – still risk having their water disconnected and racking up exorbitant fees, despite calls from a coalition of lawmakers and advocates to suspend all utility shutoffs until the country drags itself out of this unprecedented crisis. And while more than 600 localities and 13 states have mandated moratoriums on disconnecting residents since early March, some of these will soon expire as states reopen for business.

In Tennessee, where the energy burden is also very high, the governor has resisted calls for a statewide moratorium, claiming utility companies – like socially distancing residents – can be trusted to do the right thing.
The use of the word "discount" throughout the Federal Reserve Act is the terminology for making a loan. The phrase that prohibits the Fed from accepting collateral that is based on "merely investments or issued or drawn for the purpose of carrying or trading in stocks, bonds, or other investment securities, except bonds and notes of the Government of the United States," has been interpreted for the past 107 years to mean that the Fed is not allowed to encourage speculation in stocks and corporate bonds by accepting either as collateral. If the Fed is not allowed to accept stocks and corporate bonds as collateral, it would clearly follow that they are not to be purchased outright by the Fed either. As the statute makes clear, the only bond obligations that the Fed can accept are "bonds and notes of the Government of the United States."
Pam Martens and Russ Martens, April 27, 2020 [Wall Street on Parade]
[Vox, via Naked Capitalism 5-2-20]
[New York Times, via Naked Capitalism 5-2-20]
In the mid-1990s I reflected on how often it is liberals who enable, even abet, the rise of reactionary forces by accommodating them and treating them as legitimate, looking the other way at the dangerous aspects and implications of their agendas.... Mainstream liberals' main criterion for assessing a military intervention is whether or not it can attain U.S. objectives neatly and with limited American casualties. Under Bill Clinton, George W. Bush, Barack Obama, and Donald Trump, they've supported and rationalized military adventurism and extrajudicial killing of non-combatants, among other horrors, in the Middle East and elsewhere....

This history of liberal support for authoritarianism and dictatorship is especially significant at this moment as a tide of authoritarian neoliberalism has been rising all over the world. Orbán in Hungary, Erdoğan in Turkey, Modi in India, Bolsonaro in Brazil, Salvini in Italy, Poroshenko in Ukraine, and for that matter Boris Johnson in the United Kingdom demonstrate that the neoliberal program of regressive transfer does not require popular democracy. Popular oversight instead has been a hindrance to regimes of neoliberalization since Reagan and Thatcher, and those pursuing such agendas have commonly sought to insulate their programs from popular democratic processes, behind special commissions and other unelected bodies.

Watching Speaker of the House Nancy Pelosi proudly applauding and then standing for a photo-op with Venezuelan fraud and third-rate coup-plotter Juan Guaidó during and after Trump's 2020 State of the Union message...
"As we start thinking down the road in future iterations, my hope would be that it's more fine tuning what we've already done rather than taking on big, aggressive new initiatives that are paid for by additional debt," Senate Majority Whip John Thune (S.D.), the chamber's No. 2 Republican, said in an interview. He warned that at some point, "we're going to run out of capacity at the federal level."

....In a conference-wide phone call Thursday morning, GOP senators broadly agreed to hold off on any new virus spending until lawmakers return to Washington on May 4, according to people on the call and those briefed on the conversation, who spoke on the condition of anonymity to describe the private discussion.
Instead of the dittoheads learning a lesson in the limits that reality imposes on ideology, it's formerly thoughtful intellectuals who've gone into overdrive trying to force reality into pre-existing ideological frames, while also actively dismissing knowledgeable expertise and displaying contempt for the uncertainty confronting us all. In its place they substitute tribal loyalty and a nasty Social Darwinism. Self-described nationalists express no solidarity at all with members of their nation dying by the tens of thousands. Formerly thoughtful people have turned themselves into heartless hacks with no interest in seriously engaging with the real problems, challenges, and trade-offs the country confronts in the present crisis. It's incredibly ugly and disheartening.