Week-end Wrap – Political Economy – May 10, 2020
by Tony Wikrent
The Risks - Know Them - Avoid Them
[ErinBromage, via Mike Norman Economics 5-8-20]
We know most people get infected in their own home. A household member contracts the virus in the community and brings it into the house where sustained contact between household members leads to infection.
But where are people contracting the infection in the community? I regularly hear people worrying about grocery stores, bike rides, inconsiderate runners who are not wearing masks.... are these places of concern? Well, not really. Let me explain....
Remember the formulae: Successful Infection = Exposure to Virus x Time
....Ignoring the terrible outbreaks in nursing homes, we find that the biggest outbreaks are in prisons, religious ceremonies, and workplaces, such a meat packing facilities and call centers. Any environment that is enclosed, with poor air circulation and high density of people, spells trouble.
Some of the biggest super-spreading events are:
Meat packing: In meat processing plants, densely packed workers must communicate to one another amidst the deafening drum of industrial machinery and a cold-room virus-preserving environment. There are now outbreaks in 115 facilities across 23 states, 5000+ workers infected, with 20 dead. (ref)

Weddings, funerals, birthdays: 10% of early spreading events

Business networking: Face-to-face business networking like the Biogen Conference in Boston in March.
As we move back to work, or go to a restaurant, let's look at what can happen in those environments.

Restaurants: Some really great shoe-leather epidemiology demonstrated clearly the effect of a single asymptomatic carrier in a restaurant environment (see below). The infected person (A1) sat at a table and had dinner with 9 friends. Dinner took about 1 to 1.5 hours. During this meal, the asymptomatic carrier released low-levels of virus into the air from their breathing. Airflow (from the restaurant's various airflow vents) was from right to left. Approximately 50% of the people at the infected person's table became sick over the next 7 days. 75% of the people on the adjacent downwind table became infected. And even 2 of the 7 people on the upwind table were infected (believed to happen by turbulent airflow). No one at tables E or F became infected, they were out of the main airflow from the air conditioner on the right to the exhaust fan on the left of the room. (Ref)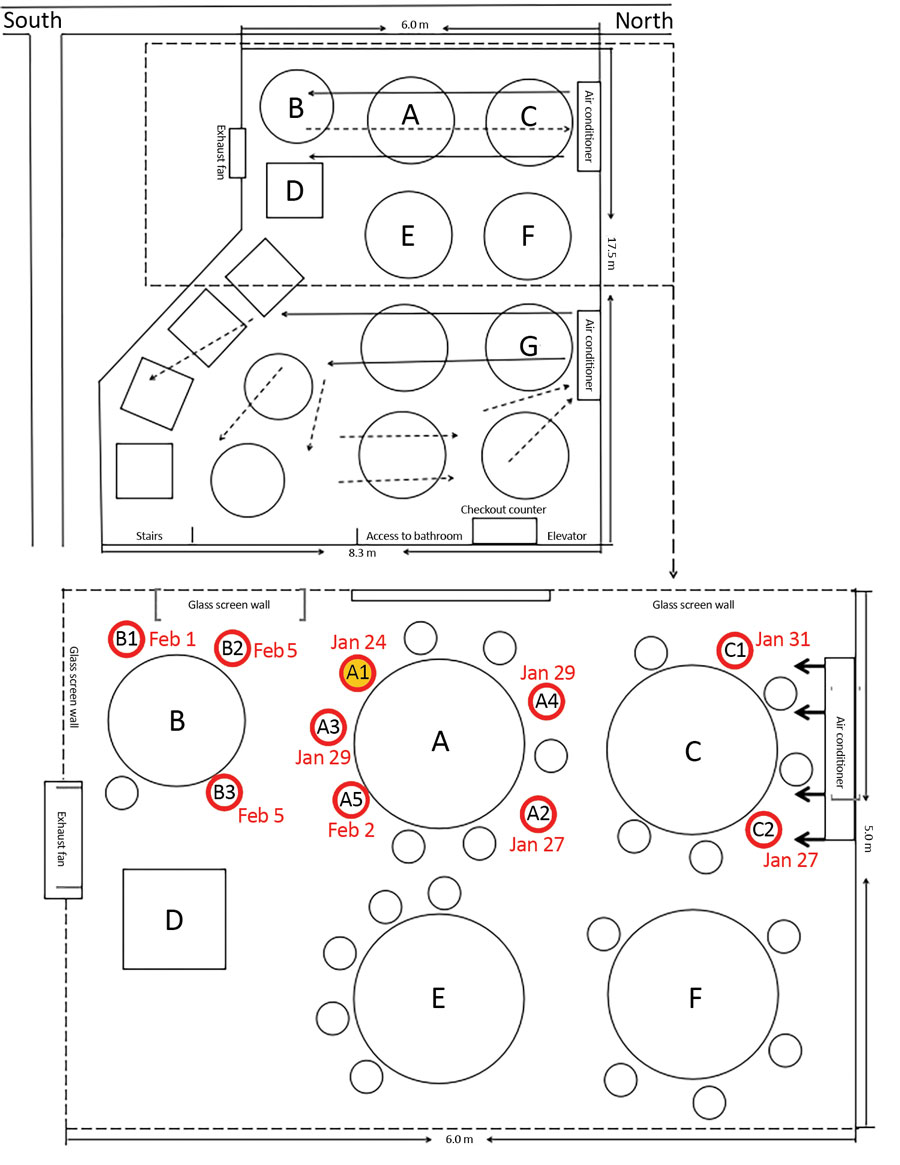 Workplaces: Another great example is the outbreak in a call center (see below). A single infected employee came to work on the 11th floor of a building. That floor had 216 employees. Over the period of a week, 94 of those people become infected (43.5%: the blue chairs). 92 of those 94 people became sick (only 2 remained asymptomatic). Notice how one side of the office is primarily infected, while there are very few people infected on the other side.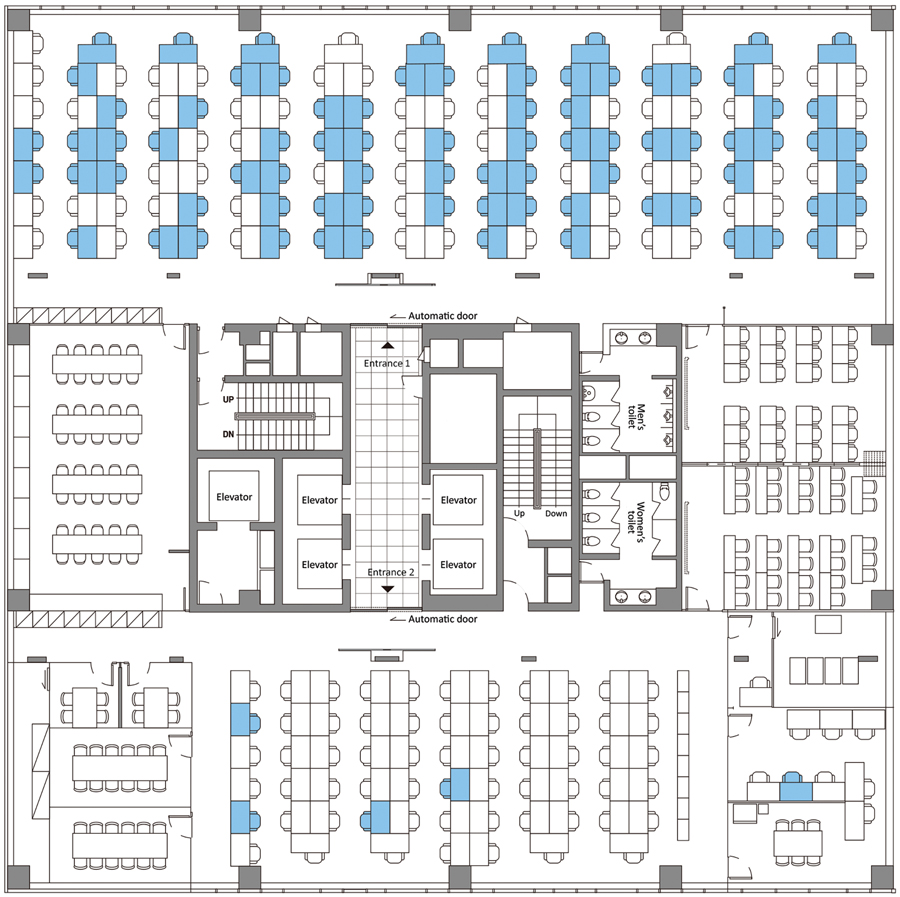 Strategic Political Economy
[
The Big Picture, May 9, 2020
]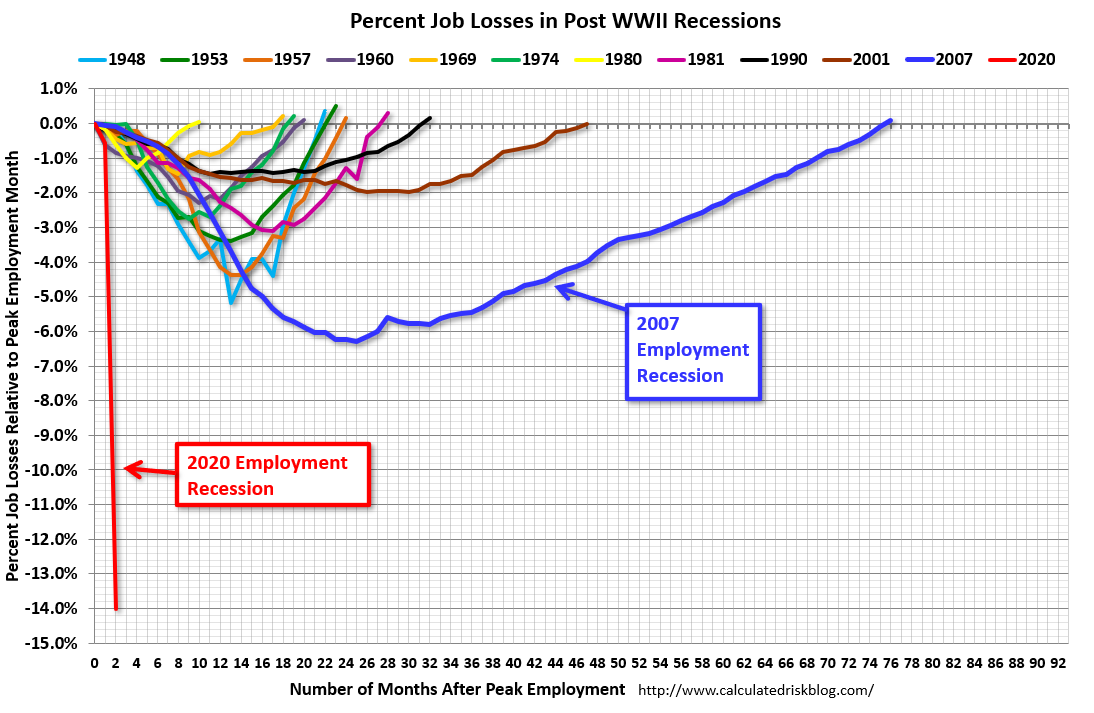 SCREEN NEW DEAL: Under Cover of Mass Death, Andrew Cuomo Calls in the Billionaires to Build a High-Tech Dystopia
Naomi Klein, May 8 2020 [The Intercept, via Naked Capitalism 5-9-20]
It has taken some time to gel, but something resembling a coherent Pandemic Shock Doctrine is beginning to emerge. Call it the "Screen New Deal." Far more high-tech than anything we have seen during previous disasters, the future that is being rushed into being as the bodies still pile up treats our past weeks of physical isolation not as a painful necessity to save lives, but as a living laboratory for a permanent — and highly profitable — no-touch future....
It's a future in which our homes are never again exclusively personal spaces but are also, via high-speed digital connectivity, our schools, our doctor's offices, our gyms, and, if determined by the state, our jails. Of course, for many of us, those same homes were already turning into our never-off workplaces and our primary entertainment venues before the pandemic, and surveillance incarceration "in the community" was already booming. But in the future under hasty construction, all of these trends are poised for a warp-speed acceleration.
This is a future in which, for the privileged, almost everything is home delivered, either virtually via streaming and cloud technology, or physically via driverless vehicle or drone, then screen "shared" on a mediated platform. It's a future that employs far fewer teachers, doctors, and drivers. It accepts no cash or credit cards (under guise of virus control) and has skeletal mass transit and far less live art. It's a future that claims to be run on "artificial intelligence" but is actually held together by tens of millions of anonymous workers tucked away in warehouses, data centers, content moderation mills, electronic sweatshops, lithium mines, industrial farms, meat-processing plants, and prisons, where they are left unprotected from disease and hyperexploition. It's a future in which our every move, our every word, our every relationship is trackable, traceable, and data-mineable by unprecedented collaborations between government and tech giants.
We're Not in This Together: There is no universal politics of climate change
[The Baffler, via Naked Capitalism 5-6-20]
Neofeudalism is also a steady-state economy—one in which growth is essentially nil or close to it—but characterized not by some harmonious socially sustaining socioeconomic life. Rather, it would be one in which the rate of return on "capital" lies at its historic norms of 4 to 5 percent for a rather much larger and much more comfortable ruling class than existed in pre-modern periods across the world, coupled with the conditions for at least a handful of distinct—if almost certainly overlapping—surplus populations: First, a massive number of socioeconomically expendable people (no longer needed for the basic stable reproduction of the sated and well-off) who face direct, permanent ecological adversity. (Think about the UN's estimate of one to two billion who may "no longer have adequate water" if the world warms by 2 degrees Celsius.) And second, an over-large body—also facing severe economic and ecological constriction—of what one might term "neoserfs": people who work in basic production and extraction, maintenance, and non-essential service functions. In between these groups and a ruling class would be a third mass: loyal retainers, if you will. Those who perform high level services, especially governance and security.
Billionaires Are Eating the Economy
[The New Republic, May 7, 2020]
Yet over a span of three weeks in March and April—right as hospitalizations and deaths were climbing sharply in the U.S.—the country's billionaires managed to increase their combined net worth by about 10 percent. According to a report from the Institute for Policy Studies, during the same period that more than 22 million people lost jobs, the wealth of America's billionaires rose by an astonishing $282 billion. "Already, the combined wealth of U.S. billionaires is higher than a year ago, according to our study," institute scholar and study co-author Chuck Collins wrote. "At least eight of these billionaires have added another $1 billion to their wealth during the pandemic." Among the billionaires who have gotten richer since the Covid-19 crisis began are a number of health care industry investors, Zoom founder Eric Yuan, and, of course, Amazon CEO Jeff Bezos.
Though $282 billion is a nearly incomprehensible sum of money, for some general context, consider the following: Last week, New York Governor Andrew Cuomo threatened to cut $10 billion in funding to public schools, health care services, and other programs. He also applied for a $4 billion loan from the federal government to replenish the state's unemployment benefits, now strained by mass layoffs. In April, the postal service, an institution now embroiled in a bitter dispute with the Trump administration over funding, asked for $50 billion to stay afloat. Several states are now anticipating budget shortfalls ranging from $1.1 billion in Arizona to as much as $15 billion in New York. And in 2018, Supplemental Nutrition Assistance Program and other food assistance benefits cost $68 billion in total. Billionaires' earnings on paper over the period of less than one month, in other words, could have covered all of these programs, with money left over.
[Naked Capitalism 5-5-20]
Auto dealerships in your local Chamber of Commerce are, as it were, over-ruling the pencil necks at the CDC and the NIH. Local oligarchs are filling the power vacuum left at the Federal level, and our globalist oligarchs are indifferent (denial) or favorable (eugenics). This outcome is consistent with declining life expectancy never having become a political issue, along with deaths of despair and the opioid epidemic. Benign or malign neglect, it comes to the same thing.
[The Marshall Project, via Naked Capitalism 5-3-20]
The Ars COVID-19 vaccine primer: 100-plus in the works, 8 in clinical trials
[Ars Technica, via Naked Capitalism 5-4-20]
San Francisco study reveals 90% of people who tested positive for coronavirus had been leaving home to go to work
[The Atlantic, via Naked Capitalism 5-7-20]
"A poll from The Washington Post and the University of Maryland released yesterday finds that eight in 10 Americans oppose reopening movie theaters and gyms; three-quarters don't support letting sit-down restaurants and nail salons reopen; and a third or less would allow barber shops, gun stores, and retail stores to operate. An NPR/PBS NewsHour/Marist poll last week found similar numbers."
2 Utah County businesses told staff to ignore COVID-19 guidelines, resulting in 68 positive cases
Daily Herald, via Naked Capitalism 5-7-20] "The right to infect others shall not be infringed."
[Vox, via Naked Capitalism 5-6-20]
"We have a federal government that is supporting provinces' responses," says David Fisman, an epidemiologist at the University of Toronto. "You have a chief executive who is directly undermining the public health response."
There are a number of factors that have enabled Canada to perform at a higher level than the United States, including more consistent pre-virus funding for public health agencies and a universal health care system. But one of the most important seems to have been a difference in political leadership....
Third, and finally, every expert I spoke emphasized the value of Canada's single-payer health care system at this crucial moment, especially when compared to America's extremely expensive and low-capacity system.
"This report offers findings of a survey designed to collect information on the effects of COVID-19 on communities and the entities serving them." n=3899 nonprofit organizations, financial institutions, government agencies and other community organizations. More: "Over one-third of respondents (35%) indicated it will take more than 12 months for their communities to return to the conditions prior to the disruption from COVID-19. … A quarter of respondents (25%) indicated their entity could operate for less than three months in the current environment before exhibiting financial distress."
"The U.S. Labor Market During the Beginning of the Pandemic Recession"
(PDF)
[
Becker Friedman Institute
, via Naked Capitalism Water Cooler 5-8-20] Business failures:
While the majority of the employment decline occurred among continuing businesses, measured business exit—or temporary suspension of operations—plays a substantial role in the overall collapse, particularly among smaller businesses. This is an alarming pattern which may have relevance for the pace of recovery. One would hope that many of the businesses we observe suspending activities will resume operations in the near future. If not, the jobs destroyed by exiting businesses are permanently gone, requiring extra growth among surviving businesses or extra business entry to replace them. Jobs and the associated personal toll of unemployment are not the only costs of business failure. From the perspective of business owners, the failure of a business means the loss of income and probably a large share of household assets. From the perspective of the macroeconomy, business failures mean the destruction of intangible capital and even the loss of some physical capital, particularly in light of costly capital reallocation. From the perspective of communities and neighborhoods, business failure means dramatic, sometimes irreversible changes to the local physical economic landscape. While some recessions see elevated failure of low-productivity businesses (thereby enhancing aggregate productivity), we have no reason to expect exit selection to function constructively in the current environment, where business revenue losses are determined by the rapid onset of a health crisis.
[mintpressnews, via Naked Capitalism 5-8-20]
The latest $484 billion "relief" bill which lacks funding for food aid, rent relief, and basic worker protections comes on the heels of the ironically named CARES Act which includes a tax break for those earning more than one million dollars per year. To be more precise, 82 percent of the tax benefits will go to roughly 43,000 taxpayers. This generous cut will cost $90 billion this year alone. That comes out to an average handout of $1.6 million to each millionaire or billionaire in 2020. To put that into perspective for all those who got a "stimulus" check, the CARE-ing tax break handout is worth 1,300 times as much as that $1,200 check. And that's just one section of tax breaks. Big corporations are on track to get trillions from the Federal Reserve as the largest asset manager in the world (as well as a piggy bank for weapons manufacturers and the fossil fuel industry), Black Rock has been tapped to manage these bailout programs. As journalist David Dayen wrote in a recent article, "This is a robbery in progress."
"Schumer, Pelosi set to unveil 'Rooseveltian' relief package"
Lambert Strether reads between the lines:
Since there's no mention of policy in the article, let me pull out the adjectives: "Big," "bold," "very strong," "action here to help average folks," and "Rooseveltian." If only there had been somebody who had been advocating policies like that in the Democrat primary! And if only the Democrats had done this first, when they had some leverage, and nobody was muttering about "fiscal responsibility." Anyhow, I hate to be too cynical, but liberal Democrats being who they are, I would bet that the bill will not be universal ("essential workers" enter by the front door, all others by the kitchen entrance), will include means testing, and be at least partially implemented through tax credits. It will also be complicated. The bill will certainly not resemble Tlaib's proposal to give everyone relief through a card topped up on a monthly basis, and paid for by issuing The Coin. That would be Rooseveltian.
[
Twitter
, via Naked Capitalism Water Cooler 5-7-20]
Kenneth Rogoff [Project Syndicate, via Naked Capitalism 5-8-20]
David Dayen [American Prospect, May 9. 2020]
Meatpacking plants, even without the pandemic, needed new safety standards anyway. Injury rates have spiked since 1980, and line speeds have accelerated along with it. Inspections are nearly non-existent. Wages have collapsed, and the industry is more consolidated than it was at the time of Upton Sinclair's The Jungle. The largely immigrant workers being exposed at these plants quite literally aren't thought of as people. "The surge was due to the meatpacking—that's where Brown County got the flare. It wasn't just the regular folks in Brown County," said the chief justice of the Wisconsin Supreme Court on Thursday.
The line speeds, close quarters, and need for refrigeration (and therefore a small space to reduce the energy used to cool the space) makes meatpacking a hot spot for COVID-19 throughout the world. But America's unique specialness is the consolidation, which makes the supply chain more vulnerable and makes shortages more likely, but in normal times (and even abnormal ones) makes meatpackers rich. Prices are soaring for meat consumers and dropping for farmers and ranchers. The middleman gets rich. By controlling the supply through the plants and both sides of the transaction, they can dial in profits in whatever scenario. It's a function of the lack of competition.
"Coronavirus infects more than 1,600 workers at four Iowa meatpacking plants"
"More than 1,600 workers at four Iowa meatpacking plants have been infected with the coronavirus, state health officials reported Tuesday. The worst-hit factory is the Tyson pork processing plant in Perry, where 730 workers tested positive for the virus, the Iowa Department of Public Health reported. That means that 58% of the workers who were tested at the plant had the virus, Deputy Public Health Department Director Sarah Reisetter said at the state's daily news conference about the pandemic. The plant in Waterloo had 444 workers test positive, which was 17% of those tested. The one in Columbus Junction has 221 workers test positive, which was 26% of those tested. At the Iowa Premium Beef plant in Tama, 258 workers tested positive, which was 39% of those tested, she said."
[
Bloomberg
, via Naked Capitalism Water Cooler 5-7-20]
"On March 25 one of [Rafael Benjamin's] daughters gave him a face mask to wear at the plant, where he operated boxing and loading equipment near the entrance and was often the first person to greet arriving co-workers. "He was always so respectful," a shiftmate says. Two days later, Benjamin told his kids a supervisor had ordered him to remove the mask because it was creating unnecessary fears among plant employees." • Benjamin died, naturally. More: "The meat industry's failure to protect its employees from the coronavirus has triggered the most serious threat to U.S. meat supplies since World War II. In recent weeks, 115 meat and poultry plants have reported Covid-19 infections in the U.S., and about 5,000 workers, 1% of the industry's workforce, have been confirmed sick, with 20 deaths, according to the U.S. Centers for Disease Control and Prevention. Outbreaks were so severe that at least 18 plants shut down…. Now it's up to the meatpacking companies, with even less accountability than before, to adapt to the coronavirus while sustaining production and worker health. 'It remains to be seen how we're going to manage that dynamic between the health and emotional safety, and physical safety, of the workers in the plants and the executive order,' David MacLennan, Cargill's chairman and chief executive officer, told Bloomberg TV on April 28…. Trust among meatpacking workers and their communities, never high, has been shattered."
[SCOTUSBlog, via Naked Capitalism 5-8-20]
[Pro Publica, via Naked Capitalism 5-5-20]
"The current recession is steep and severe, and even under optimistic scenarios, millions of the jobs now lost are not coming back. Meanwhile, any successful test-fueled rush to "reopen" the country and get back to the America of January 2020 will only return us to a world in which, despite low official unemployment rates, four in 10 Americans reported that they could not readily meet an emergency $400 expense, millions were reliant upon gig work without benefits, our infrastructure crumbled, and our government was caught flat-footed in the face of a public health crisis. Such a rush will also likely lead to mass death on a scale beyond what we've already seen and is most likely simply impossible to succeed in returning us to the old normal. January 2020 is not a status quo to which we can or should try blindly to return. Instead, like President Franklin Roosevelt did in the 1940s, we call for a federal job guarantee that would create millions of jobs, end involuntary unemployment, and build out necessary and resilient public infrastructure. Unlike the stimulus ideas that have dominated Washington to date, a direct government hiring initiative would address inequality; build robust capacity in public health, conservation, education, and infrastructure; and provide not just stable jobs, but government capacity to meet the current pandemic and economic crisis as well as the next one.
The Hill, via Naked Capitalism 5-6-20]
"Total rail traffic has been mostly in contraction for over one year – and now is taking a hit from coronavirus. The carloads intuitive sector's rolling average again worsened this week and now is historically low. Intermodal has a serious contraction due to the logistic headwinds of the coronavirus…. Intermodal and carloads are under 2013 levels. Whilst container exports from China are now recovering, container exports from the U.S. continues to slow."
[Mainly Macro, via Naked Capitalism 5-7-20]
The point I want to make here is that in the UK and US we have moved well beyond manufacturing consent. What is new is that they are now joined by what I will call the directed propaganda (DP) media, which includes Fox News in the US and most of the right wing press in the UK. DP-media provides biased and misleading information, or sometimes straight lies, that support a political viewpoint.
MC media is about filtering out news or opinion that challenges the system. DP outlets filter news that challenges a particular party or viewpoint within that system, and is happy to report lies that support its position.
Why do I call it directed-propaganda? Why not (when the favoured party is in power) state-media, or right wing media (there are no left wing DP outlets in the MSM)? The reason is that DP-media is a reliable supporter of the government of the right nearly all of the time, but not in all circumstances. It has a mind of its own, or rather the mind of the owner who directs it (hence directed propaganda). The most obvious example was Brexit, where the DP media in the UK effectively replaced one right wing administration with another that shared its own view on Brexit. For the Sun and Telegraph in particular, the current UK government is its government.

If that seems quite an achievement, it required help from the MC-media. In the UK the broadcast media had strict codes of balance, even if it meant balancing knowledge with lies.
Patrick Cockburn [Independent, via Naked Capitalism 5-3-30]