Week-end Wrap - Political Economy - April 27, 2019
by Tony Wikrent
Economics Action Group, North Carolina Democratic Party Progressive Caucus
Strategic Political Economy
Share of wealth held by the bottom 90% by country
[Real World Economics Review Blog, via Mike Norman Economics 4-24-19]
The Great Deformation: Why Income Inequality Has Become Intractable
Yves Smith, April 23, 2019 [Naked Capitalism]
Taylor's talk last week focused on the drivers of the rise in inequality, which came about via a rise in profit share of GDP, something we first noted in 2005 in a Conference Board Review article. That has enabled the top 1% to pull away from everyone else. Investment as a proportion of GDP has also dropped while consumption has increased. The paper has more detail, but Taylor estimates it would take 40 years to reduce inequality to 1980 levels. He also warns that wealth concentration could increase from 40% held by the top 1% to 60%....
...advocates of workers have failed to take up the task of determining what a reasonable level of profit is. We've mentioned before that in the early 2000s, Warren Buffett deemed a profit share of 6% to be unsustainably high. Yet for the past three years, the profit share has been nearly twice this high.
Oddly, the left and labor supporters have not engaged with the question of what a fair profit might be. Modern cultures have deeply internalized the idea that the result of market forces is somehow virtuous, when markets sit both in a legal system and in a set of societal norms that play a large role in what supply and demand looks like.
[Below via, via Naked Capitalism 4-23-19]
I'm reading
@JosephEStiglitz
's new book, "People, Power, & Profits". Really appreciate this point about globalisation & wages: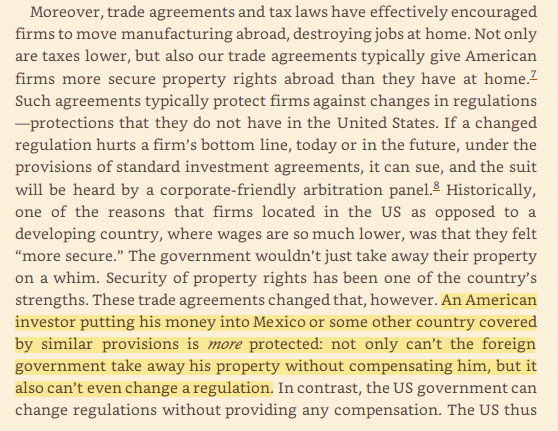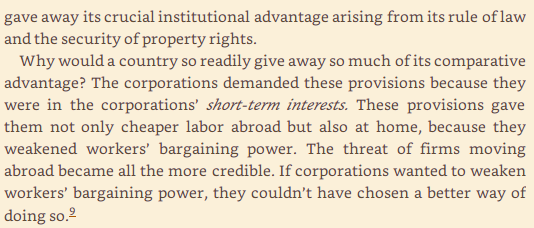 "Pete Buttigieg Trivializes the Impact of Trade on US Job Losses"
[Dean Baker,
Truthout
, via Naked Capitalism 4-23-19]
"In his campaign for the Democratic presidential nomination, Pete Buttigieg has been telling audiences that the U.S. lost six times as many jobs due to automation than trade from 2000 to 2010, according to The Washington Post. This is literally true, but for all practical purposes it is a very big lie….Tthe loss of millions of manufacturing jobs to imports was an explicit political choice, because our leaders decided it was more important to promote investment opportunities in China for Goldman Sachs and to increase protection for Pfizer's drug patents…. [A]t the very least, we should be able to talk honestly about what happened and why. Instead, Buttigieg seems intent on going the route of denial."
The epic mistake about manufacturing that's cost Americans millions of jobs
By Gwynn Guilford, May 3, 2018 [Quartz]
Capitalism in crisis: U.S. billionaires worry about the survival of the system that made them rich
[Washington Post, via Naked Capitalism 4-22-19]
Climate and environmental crises
New Colorado Law Requires State to Consider Health Impacts of Oil Drilling
"[C]onsuming one euro of digital technology in 2018 induces direct and indirect energy consumption 37% higher than what it was in 2010.This trend is the exact opposite of what is generally attributed to digital technology and runs counter to the objectives of energy and climatic decoupling set by the Paris Agreement." • This is a must-read, worth the log-in, which is free.
What the Financial Crisis Inquiry Commission (FCIC) wanted to see the U.S. Justice Department pursue was a potential criminal prosecution of Stan O'Neal, the CEO of Merrill Lynch in the leadup to the financial crisis, and its then CFO Jeffrey Edwards, for "making materially false and misleading representations and omissions about (a) Merrill's exposure to retained CDO positions, (b) the value of those positions and (c) the firm's risk management." The FCIC also believed that Merrill had lied "in the offering documents for its $1.5 billion Norma CDO that was sold to investors in March of 2007."
[ZDNet, via Naked Capitalism 4-23-19]
[Politico, via Naked Capitalism 4-23-19]
Reporter Sharmine Narwani on the secret history of America's defeat in Syria
[Salon, via Naked Capitalism 4-24-19]