Week-end Wrap - September 29, 2018
by Tony Wikrent
Economics Action Group, North Carolina Democratic Party Progressive Caucus
Simulcasting
The Second International Conference of Modern Monetary Theory
(#mmtconf18), Friday-Sunday, Sept 28-30, The New School, New York City [via Naked Capitalism]
[
BBC
, via Naked Capitalism 9-25-18]
"Judges in Seattle have decided to quash convictions for marijuana possession for anyone prosecuted in the city between 1996 and 2010. City Attorney Pete Homes asked the court to take the step 'to right the injustices of a drug war that has primarily targeted people of colour.' Possession of marijuana became legal in the state of Washington in 2012."
Can the US win a trade war?
By Marshall Auerback, September 22, 2018 [Asia Times, via Naked Capitalism 9-23-18]
The Democratic Party response to Trump's trade war so far has been straight out of an Economics 101 textbook, or a briefing paper by the Council on Foreign Relations. Unfortunately, this response is basically a defense of the economic
status quo
, which has been disastrous for the living standards of working class Americans.
....the US president is probably right in his implicit assumption that the US, not China, is likely to come out ahead in its steadily intensifying trade conflict with Beijing – at least in the short term, until China can wean itself off its export-led mercantilist growth model.
Here I think Auerback is wrong: China has already weaned itself "off its export-led mercantilist growth model." Just look at how far advanced is China's high speed rail system or how aggressive is China's program of building new electric power generating capacity -- which includes coal fired power plants as well as renewables. This is an aspect of national economic development most economists and USA policy makers simply do not understand: at some point in a country's economic development, it is exporting goods not because it is following an "export-led mercantilist growth model" but simply because it has become the producer of the best, most advanced, and/or most cost effective machinery and technology. Alexander Hamilton, the first USA Treasury Secretary, who designed the basic structure of the USA economy, understood this thoroughly. This is the reason
South Korea remains, after China, the world's largest shipbuilder
, or that Toyota is now a larger car maker than General Motors or Ford.
Trump's goal is to disrupt this "Chimerica" nexus and induce bringing supply chains back to the US. However, one potentially adverse outcome is that this policy may be inflationary, by creating short-term bottlenecks as the flow of cheap Chinese imports is disrupted. Furthermore, a tariff, like a devaluation, is expansionary as it diverts demand from foreign to home producers, thereby further contributing to potential inflation.
For Trump, this might be a reasonable trade-off. But if the president is successful in securing these objectives, he might well find himself winning a trade battle with China, but losing the inflationary war.

The Metal That Started Trump's Trade War
[Bloomberg Businessweek, via The Big Picture 9-29-18]
Much useful detail on the aluminum industry. Democrats should carefully note the positive response to Trump's tariffs by
both
management and labor, and start figuring out a way to respond that does not involve very worn out and discredited pro-trade and pro-globalism nostrums.
Labor Market: "Army blames strong economy for missing recruiting goal"
[
ABC News
, via Naked Capitalism 9-24-18]
"For the first time in thirteen years the Army has failed to meet its annual recruiting goal and Army officials believe the strong U.S. economy is partially to blame. The Army failed to meet its recruiting goal of 76,500 new recruits for fiscal year 2018, bringing in 70,000 recruits — an 8.5 percent shortfall from this year's goal."
Lambert Strether wrote: "So, thirteen years of stagnation, then? That seems about right."
Income and Poverty in the United States: 2017
by Kayla Fontenot, Jessica Semega, and Melissa Kollar, September 12, 2018 [U.S. Census Bureau]
Report Number P60-263
Lots of numbers that reflect a "good" economy. You can bet Trump and the Republicans will be using these numbers a lot. But see
"Best Ever" Economy? How much credit does Trump deserve for the current state of the economy?
Bernie Sanders: Donald Trump and GOP want to cut Social Security. We should expand it instead.
[
USA Today
, via Naked Capitalism 9-24-18]
"If Trump actually cared about saving Social Security, he would support my bill to expand Social Security benefits and extend its solvency for the next 60 years by requiring the wealthiest Americans — those making over $250,000 a year — to pay their fair share of Social Security taxes…. A moral society does not give tax breaks to billionaires and large corporations, and then cut back support for struggling seniors or people with disabilities.Our job now is to rally the public to ensure that everyone in America can retire with dignity and everyone with a disability can live with security."
Bernie Sanders backs Scottish Government's Amazon funding freeze in workers' Living Wage battle
"Since fiscal 2017, the first full year of privatization, the per-member cost of Iowa's Medicaid program has risen an average of 4.4 percent per year, according to the non-partisan Legislative Services Agency. In the previous six years, the per-member cost rose an average of 1.5 percent per year, the agency said….. Republican Gov. Kim Reynolds said in an interview Wednesday she remains confident in the promise of private Medicaid management, despite the new cost numbers. Reynolds said Department of Human Services administrators have assured her part of the explanation for the recent spike in per-member Medicaid costs was bills incurred in past years were being paid in the current budget year."
An "Unprecedented Amount of Fraud:" A Decade after Great Recession, We are still cleaning up Lehman mortgage mess.
by Aldo Svaldi, September 15, 2018 [
Denver Post
, via The Big Picture 9-23-18]
...Most people have moved on since what became known as the Great Recession, but not Denver attorney Chris Carrington.
Carrington has spent much of his career since 2009 tracking down and deposing hundreds of borrowers who submitted falsified loan applications. More recently, he has been hunting down the mortgage brokers and originators behind those bogus loan applications.
A dry erase board in Carrington's office shows the web of subterfuge and complex entities some loan brokers have used to hide their tracks. "What I kept seeing over and over again is how greed manifests itself," he said. "There was an unprecedented amount of fraud." ...."It was crime on a massive scale, but nobody viewed it that way," he said.
Carrington, who never worked for Lehman but rather the bankruptcy estate, had the task of getting borrowers to admit in depositions that the information on their loan applications wasn't true.

After witnessing first hand what caused the thousands of stress fractures that sent Lehman tumbling down a decade ago, Carrington worries it is only a matter of time before it happens all over again. "Hardly anyone got prosecuted, and that suggests that there's little risk in folks running these same plays," he said.
Mortgage Bonds Issued by Banks & Private Institutions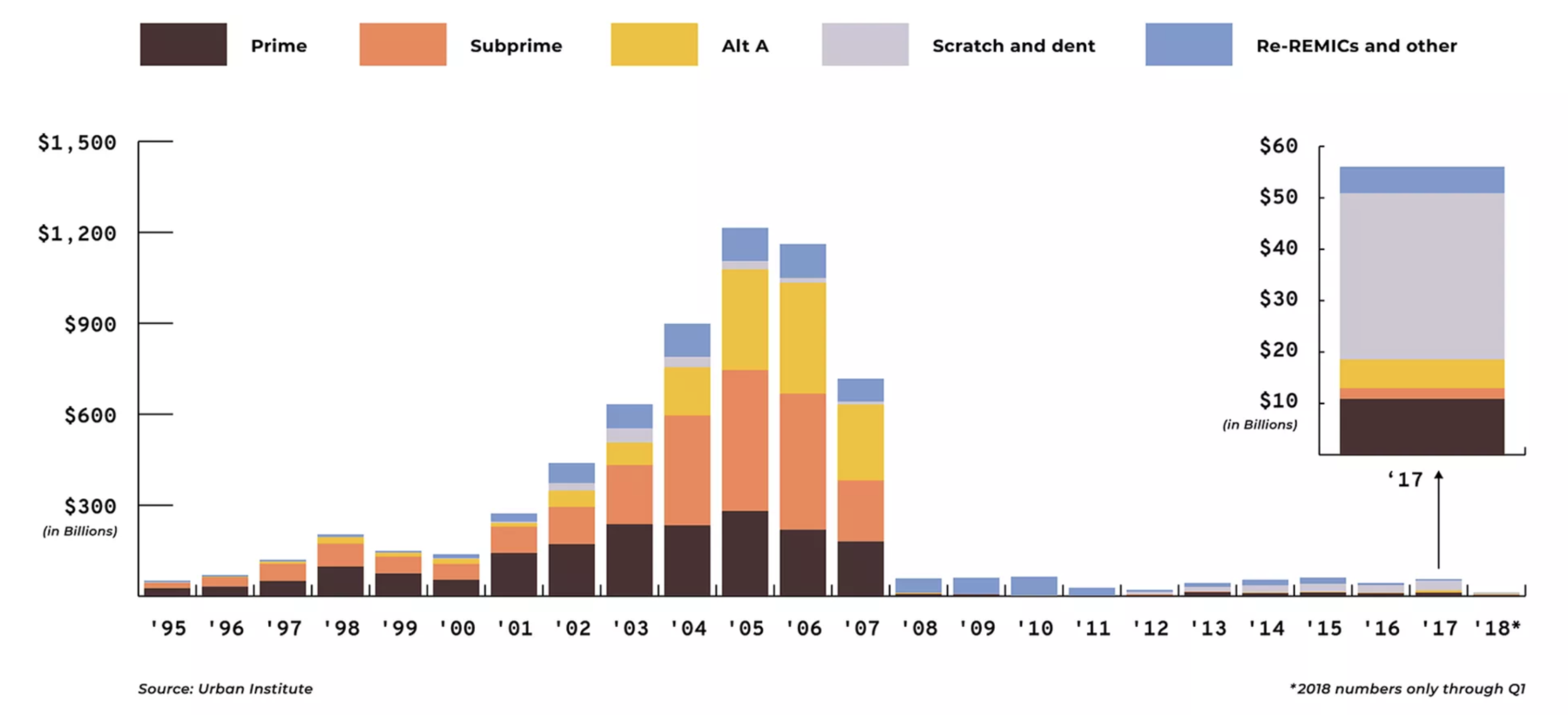 [Source:
Curbed
, via The Big Picture 9-22-18]
by Barry Ritholtz, September 25, 2018 [The Big Picture 9-23-18]
Last week, I was at an ETF conference in Reykjavík. As I was flying there, it dawned on me I know practically nothing of Iceland. What little understanding I had, had come second-hand, via Michael Lewis' epic tale of Iceland's financial collapse, "Wall Street on the Tundra." His 10,000-word Vanity Fair missive is practically a Norse Saga of its own.
Lewis explores the Icelandic bubble in delicious detail. The short version is that the Icelandic banks scaled up their debts from a mere few billion dollars to over $140 billion, without growing the asset base at the same time. To quote Lewis quoting an economist, it was "the most rapid expansion of a banking system in the history of mankind."
....Unlike here in the states or in Europe, the Icelanders told the bankers to piss off. Instead of bailing them out, they were sent into bankruptcy. The results were a fast and sharp decline, followed by a rapid, post-crisis economic recovery — faster and stronger than any other country in the world.
As I flew home, I put a few thoughts down about the lessons we should learn from Iceland.
"Slightly more American adults would now feel "proud" to work for the Wall Street giant, as opposed to "embarrassed," according to new data from YouGov's Plan & Track, a research firm tracking brand awareness and perception… 'We're working hard to be more transparent and we are pleased that some of the work is gaining traction,' a Goldman spokesman said."
How Dirty Money Disappears Into the Black Hole of Cryptocurrency
[
Wall Street Journal
, via Naked Capitalism 9-28-18]
A North Korean agent, a stolen-credit-card peddler and the mastermind of an $80 million Ponzi scheme had a common problem. They needed to launder their dirty money. They found a common solution in ShapeShift AG, an online exchange backed by established American venture-capital firms that lets people anonymously trade bitcoin, which police can track, for other digital currencies that can't be followed…. The company's financial backers include Pantera Capital and FundersClub in California and Access Venture Partners in Colorado. Partners with Pantera and Access said their legal reviews satisfied them that ShapeShift is operating within the law. FundersClub and its partners didn't respond to messages seeking comment…. A Wall Street Journal investigation identified nearly $90 million in suspected criminal proceeds that flowed through such intermediaries over two years.
How Puerto Rico Became the Newest Tax Haven for the Super Rich
[
GQ
, via The Big Picture 9-22-18]
CEO-to-worker compensation ratio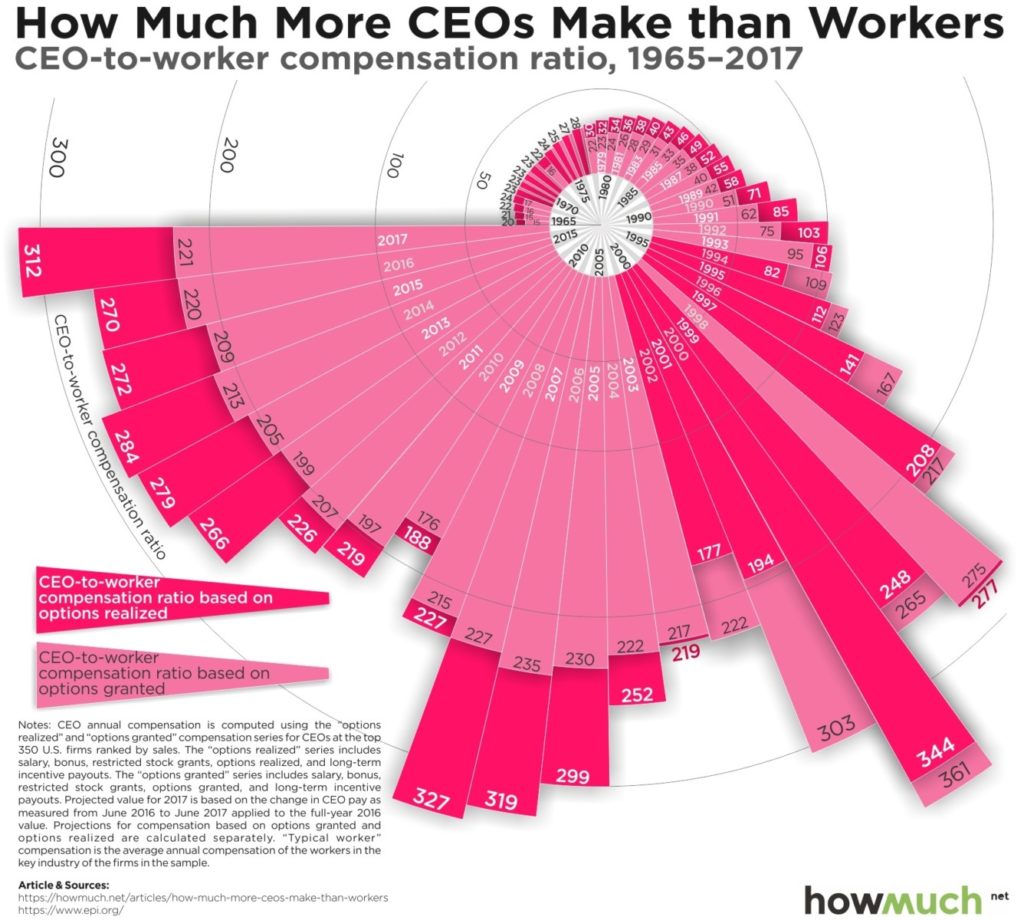 [Source:
How Much
, via The Big Picture 9-28-18]
Is there any correlation between the phenomena portrayed above, and that portrayed below?
One Third of Americans Have $0 Saved for Retirement
by Barry Ritholtz, September 27, 2018 [The Big Picture]
Very scary: nearly a
full third
of Americans aged 56 to 64 have
zero
savings for retirement. Anyone who wants to cut or "reign in" Social Security is just evil.
Labour Would Force U.K. Firms to Hand 10% of Equity to Staff
By Thomas Penny, September 23, 2018 [The Guardian, via ZeroHedge]
U.K.-based companies with more than 250 employees would be forced to give 10 percent of their equity to staff if Labour wins the next election.
John McDonnell, the man who would set economic policy should the U.K.'s main opposition party come to power, will make the pledge in a speech on Monday.
The shares would be handed over at a rate of one percent a year and held in Inclusive Ownership Funds that would pay annual dividends to a maximum of 500 pounds ($653) per employee.
Wealth Of Top 1% Surpasses $100 Trillion: More Than Global GDP And All Central Bank Balance Sheets
[ZeroHedge, September 25, 2018]
A Publicly Owned Bank for LA?
by Glenn Daigon, September 26, 2018 [Black Agenda Report]
A city-owned bank could extend the credit lines of community banks and credit unions to offer loans to low-income residents and help bankroll affordable housing.
"LA public bank advocates estimate Los Angeles pays $3.14 billion in debt service, the cost to borrow money, from Wall Street."
If Los Angeles were to establish a public bank — an issue its residents will vote on in the fall — one of two things could happen.
In the opinion of plan proponents, a public bank would free the city from predatory Wall Street institutions and save taxpayers a lot of money. That money could then be used to fund needed projects, such as affordable housing, infrastructure, renewable energy, and small-business expansion.
Opponents of the proposal, on the other hand, predict that such a bank would be a disaster. Untethered from market forces, the "public" bank might make loans to the politically connected without regard to profitable returns. Critics argue it would be so inefficient and poorly managed that city taxpayers would eventually be forced to bail it out.
"It could jumpstart other efforts by cities and states that are considering setting up their own public banks."
"A growing body of evidence indicates that local police departments are being used to provide revenue for municipalities by imposing and collecting fees, fines, and asset forfeitures. We examine whether revenue collection activities compromise the criminal investigation functions of local police departments. We find that police departments in cities that collect a greater share of their revenue from fees solve violent and property crimes at significantly lower rates."
World Poverty Falls Below 750 Million, Report Says
[The Big Picture]
Neoliberal economists are fond of arguing that their emphasis on market reforms has resulted in a large reduction of poverty in the world, as reported by the World Bank. But look carefully at this graph.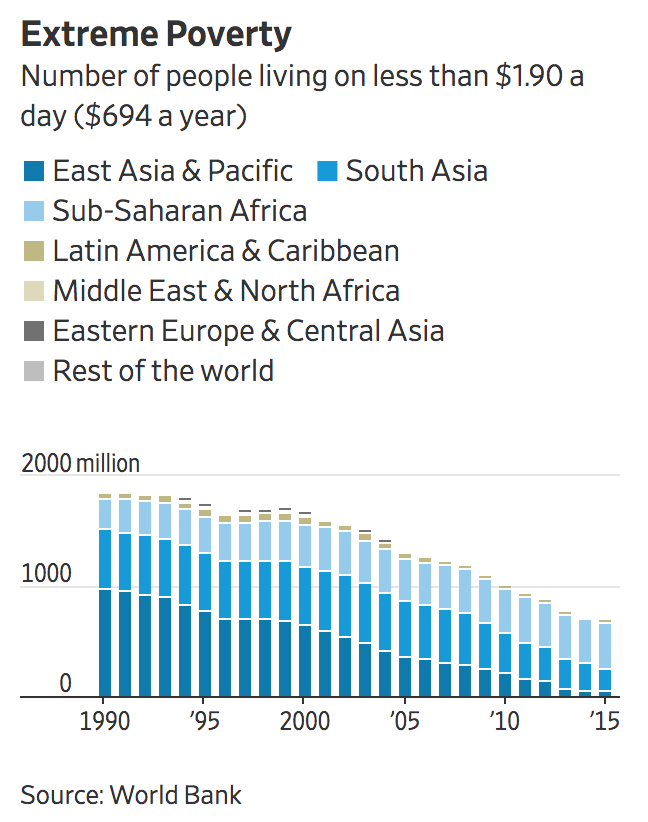 What I see is a large reduction in poverty in East Asia, which I think means China. Poverty in South Asia, probably meaning mostly India, has fallen but not nearly as dramatically as in China. Poverty in Africa appears to be as large a problem as ever, and South America looks to have budged just a bit. The obvious conclusion: the Chinese Communist Party has the world's most effective program for reducing poverty. Western neoliberal economists, not so much.
Unions Did Great Things for the American Working Class
[Bloomberg, via Naked Capitalism 9-25-18]

It's about a half century too late for the various mouthpieces of finance to finally realize that Justice Louis Brandeis was basically correct in arguing that organized labor was a very much needed counterbalance to the concentrated economic power of corporations. But, progress is progress, I guess.
Amazon's Aggressive Anti-Union Tactics Revealed in Leaked 45-Minute Video
[Gizmodo, via Naked Capitalism 9-27-18]
"A Business Insider analysis showed that median wages for truck drivers have decreased 21% on average since 1980. In some areas, they've declined as much as 50%… Trucking is obviously resistant to outsourcing, and self-driving technology has yet to replace any drivers. Still, its pay, prestige, and working conditions have tumbled over the past several decades…. So, why are America's 1.8 million truck drivers faring worse today than they did in the 1970s? The academics who study trucking point to one law: The Motor Carrier Act of 1980…. 'This was a conscious decision to make the trucking industry a dog-eat-dog industry,' Larry Mishel, a distinguished fellow at the Economic Policy Institute, told Business Insider. 'The prices of trucking got cheaper, but the ability to make a living evaporated.'… Economists say that wage decline can be traced back to the ease with which a company could enter the trucking industry."
I think it should not be forgotten that deregulation of trucking, railroads, and airlines was the first phase of deregulation, and was begun in the 1970s, led by two liberal Democratic leaders, Edward Kennedy and Jimmy Carter.
Accounting for Incorporation: Part I
In the early days of the American Republic: "Corporate privilege represented a profound departure from these longstanding background principles of moral and legal responsibility – a departure that only sovereigns or near-sovereigns like US states could authorize, and only for reasons of extraordinary necessity. Hence the familiar ring, until relatively recently, of phrases like 'the [state-conferred] corporate franchise,' and adages like that pursuant to which corporations are observed to be 'creatures of the state.' The corporate privileges were also, again, meant solely to encourage the owners of scarce capital to organize and finance projects for the public good, during a time when capital was indeed scarce and reliable public revenue correspondingly hard to come by. For this very reason, the privileges were operative only insofar as the incorporated entity was actually pursuing such projects. They were, in other words, strictly conditional. And both the state's Secretary of State and committees of interested citizens had to agree that the conditions were likely to be met before any firm's corporate charter would be conferred or renewed."
Citizens United, Thoroughly Debunked
: C
orporations are NOT "Associations of Citizens"
reported by Peter Dorman, September 26, 2018 [AngryBear.com]
by Jonathan Macey and Leo Strine,
Citizens United As Bad Corporate Law,
University of Pennsylvania, Institute for Law and Economics Research Paper No. 18-28; Harvard Law School, John M. Olin Institute for Law, Economics, and Business Discussion Paper No. 972; Yale Law and Economics Research Paper No. 598
In this Article we show that Citizens United v. FEC, arguably the most important First Amendment case of the new millennium, is predicated on a fundamental misconception about the nature of the corporation. Specifically, Citizens United v. FEC, which prohibited the government from restricting independent expenditures for corporate communications, and held that corporations enjoy the same free speech rights to engage in political spending as human citizens, is grounded on the erroneous theory that corporations are "associations of citizens" rather than what they actually are: independent legal entities distinct from those who own their stock…..[C]orporations do not have owners, they have investors who have contract-based, financial interests in the firms and limited management rights....
In Citizens United, Justice Kennedy, writing for the majority opines that Congress may not take into account the distinctions between corporations and human beings in regulating political speech, and that corporations must be permitted the same freedom to speak as human beings. In dissent, Justice Stevens fails directly to challenge Justice Kennedy's existential conception of the corporation notwithstanding the fact that that it constitutes the core of the majority opinion. This Article fills that void. We reject the Citizens United majority's conception of the corporation as an "associations of citizens" and reaffirm its status as an artificial, metaphysical, and legal construct that exists separate and apart from its investors. The Citizens United view of the corporation as an association of individuals is inconsistent with the established conception of the corporation as a juridical entity with limited liability.
Majority of 2016 nonvoters wouldn't vote again in hypothetical rematch
[
The Hill
, via Naked Capitalism 9-24-18]
"The survey, conducted by Hill.TV and the HarrisX polling company found that 53 percent of those who did not vote said they would not vote again in a hypothetical rematch…. Eighty-three percent of voters said they were "not very likely" or "not at all likely" to vote in the midterms, according to an April Suffolk University/USA Today poll."
The Democratic Party leadership should stop fighting the populist insurgency from the left, and get serious about designing an alternative to the neoliberal economics of unfettered markets, financialization, unchecked oligopolies and monopolies, and free trade.
Judge: Proof of Kingston coal ash workers exposure to toxins 'legion,' enough for trial
"A federal judge says hundreds of blue-collar laborers who cleaned up the nation's largest environmental disaster have amassed enough evidence to allow an East Tennessee jury to decide if the coal ash in which they toiled unprotected for years is killing them….. More than 30 workers are dead, and more than 200 are dying since the spill. The workers and their survivors say supervisors of the California government contractor TVA put in charge of the clean-up of the 5 million cubic yards of coal ash – loaded with toxins including arsenic and radium – lied to them, denied them protective gear and tampered, influenced and destroyed test results."
One step forward, two steps back:
U.S. appeals court tightens the arbitration screw in Uber case
[
Reuters
, via Naked Capitalism 9-25-18]
"Uber Technologies Inc won a legal victory on Tuesday as a federal appeals court said drivers seeking to be classified as employees rather than independent contractors must arbitrate their claims individually, and not pursue class-action lawsuits…. Uber's defense got a boost after the U.S. Supreme Court, in Epic Systems Corp v Lewis, ruled 5-4 in May that companies could compel workers to waive their right to class actions and instead pursue arbitration for various workplace disputes. In Tuesday's decision, Circuit Judge Richard Clifton said arbitration was necessary in light of the Epic ruling, as well a 9th Circuit ruling from 2016 in another case against Uber."
Arbitration in employment and consumer contracts must be made illegal in order to restore equality before the law. The evidence is overwhelming that arbitrators decide in favor of corporations by extremely lopsided margins.
A neat interactive map that makes the enormous scale of the country clear.
Even in Washington, D.C., nearly half of friendship links extend to people who live within 100 miles. Nationwide, in the average county, 63 percent of friendship links are that close, probably reflecting that many people on Facebook know one another through real-world sites like grade schools, colleges and offices. Other research shows that these sites tend to be close to home: The typical American lives just 18 miles from his or her mother. The typical student enrolls in college less than 15 miles from home.
There are a few counties that stand out for their massive number of links to other counties. One is in North Carolina:
Other county outliers in the data can be explained by distinct roles some communities serve: Onslow County, N.C., which is connected to much of the country, is home to Marine Corps Base Camp Lejeune.
Life expectancy progress in UK 'stops for first time'
[
BBC
, via Naked Capitalism 9-26-18].
"Life expectancy in the UK has stopped improving for the first time since 1982, when figures began. Women's life expectancy from birth remains 82.9 years and for men it is 79.2, the figures from the Office for National Statistics, for 2015-17, show. In some parts of the UK, life expectancy has even decreased."
President-Elect of Mexico's Bombshell: Economy in "Situation of Bankruptcy"
[Wolf Richter. EM, via Naked Capitalism 9-26-18]
"Ha, imagine the hue and cry that would have a arisen had a certain recent US president insisted on similar total-compensation restrictions on execs at bailed-out US banks. (To say nothing of actually prosecuting the leaders of the TBTF fraud cartels.)"
American nuns win victory holding Smith & Wesson accountable
[Guardian, via Naked Capitalism 9-26-18]
Time to Wake Up: the Neoliberal Order is Dying
by Jonathan Cook [Counterpunch, via Naked Capitalism 9-26-18]
...power in our societies resides in structure, ideology and narratives – supporting what we might loosely term our current "neoliberal order" – rather than in individuals. Significantly, our political and media classes, who are of course deeply embedded in this neoliberal structure, are key promoters of the very opposite idea: that individuals or like-minded groups of people hold power; that they should, at least in theory, be held accountable for the use and misuse of that power; and that meaningful change involves replacing these individuals rather than fundamentally altering the power-structure they operate within....
The focus on individuals happens for a reason. It is designed to ensure that the structure and ideological foundations of our societies remain invisible to us, the public. The neoliberal order goes unquestioned – presumed, against the evidence of history, to be permanent, fixed, unchallengeable.
The rise of renewables marks a complete shift in the way the world uses energy, writes Liam Denning. Citing a blog post by Carbury Consulting's Harry Benham, Denning explains how the production of thermal energy results in wasteful generation -- it takes 4 gallons of gasoline to produce one useful gallon -- and how the rise of wind and solar can eliminate that waste.
[
CleanTechnica
(9/26) , via American Wind Energy Association 9-28-18]
The Connecticut Green Bank seeks investment opportunities with clean energy projects that use proven technology, reliable developers and a demonstrated use case, says Chief Investment Officer and Executive Vice President Bert Hunter. He notes the firm is open to offshore wind projects.
EIA maps show the evolution of the US energy mix
[
Ars Technica
(9/23), via American Wind Energy Association 9-24-18]
[
Renewables Now (Bulgaria) (tiered subscription model)
(9/25), via American Wind Energy Association 9-24-18]
MHI Vestas Offshore Wind has introduced a 10-megawatt offshore wind turbine and expects to begin delivering it in 2021. The model is part of MHI Vestas' V164 platform and features a stronger gearbox and some other changes from the 8-MW version.
China exploring ways to help wind, solar reach grid parity
[
CleanTechnica
(9/21), via American Wind Energy Association 9-24-18]
China's National Energy Administration released draft guidelines Sept. 13 outlining plans to help wind and solar projects reach "grid price parity" with coal and other energy sources. The plan includes new government support mechanisms for renewables in less-competitive regions.
Patent Filing May Reveal Design of Bell eVTOL Air Taxi
by Graham Warwick, Augist 23, 2018 [Aviation Week and Space Technology]
A U.S. patent application filed on Jan. 8 may provide clues to Bell's design for an electric vertical-takeoff-and-landing air taxi. Powered by a hybrid-electric propulsion system developed by Safran, a demonstrator is expected to fly in 2020.
U.S. Hypersonics Face Uphill Struggle To Match China, Russia
by Guy Norris, September 21, 2018 [Aerospace Daily and Defense Report]
A staunch advocate of hypersonics, [Michael Griffin, new undersecretary of defense for research and engineering] says the issues go well beyond the traditional technical challenges of aerodynamics and propulsion normally associated with high-speed flight. His broad line-up ranges from concerns over the robustness of the supply chain for key technologies like thermal protection systems (TPS) to the poor state of the underfunded U.S. national test infrastructure....
Although the U.S. pioneered TPS developments for re-entry vehicles and the space program, the challenges of boost-glide and air-breathing hypersonic vehicle thermal protection are even greater because they must sustain thermal peak loads that are higher and longer than either re-entering spacecraft or ICBMs. "Our industrial base for TPS technologies and the development of new such systems has waned," Griffin says . "We have national labs capable of producing one-offs, but our industrial base capable of producing this sort of thing for a living I'm told is two small companies."
Japanese Rovers Touch Down on Asteroid Ryugu
by Mark Carreau, September 24, 2018 [Aerospace Daily and Defense Report]
Two Japanese mini-rovers touched down on the near-Earth asteroid Ryugu early Sept. 22 and are in motion and transmitting imagery.
[Railway Age, September 26, 2018]
The 453km line connects the holy cities of Mecca and Medina via Jeddah and King Abdullah Economic City, with a short branch serving King Abdul Aziz International Airport in Jeddah, the principal point of entry for Hajj pilgrims
Delta's fully biometric terminal is the first in the US
by Rachel England, September 27, 2018 [engadget, via Naked Capitalism 9-28-18]
Delta Air Lines is launching what it calls the first "biometric terminal" in the US. The airline will use facial recognition at check-in, security and boarding inside the international terminal at Atlanta's Hartsfield-Jackson -- similar to systems already in place in Dubai and Australia, but more comprehensive than the biometric checks already in use at other airports around the US.

Passengers that want to use facial recognition can approach a kiosk in the lobby and click 'Look', or approach a camera at the ticket counter, TSA checkpoint or when boarding. Once a green check mark flashes on the screen, they can proceed. Delta -- which plans to introduce fingerprint scanning to fold, too -- says passengers can use this system instead of the passports to get through these checkpoints, but you'll still need your passport for use in other non-biometric-equipped airports (although maybe one day we'll do away with passports altogether).
Privacy advocates are concerned about the security risks present in facial scans, especially as it's an opt-out process. Jennifer Lynch from the Electronic Frontier Foundation, for example, says she sees it as a threat to "our constitutional 'right to travel' and right to anonymous association," and says the biggest risk is a data breach.
Uninformed Consent: Companies want access to more and more of your personal data — from where you are to what's in your DNA. Can they unlock its value without triggering a privacy backlash?
[Harvard Business Review, via The Big Picture 9-22-18]
In 2012, Puerto Rico had passed two laws intended to make the island a "global investment destination." Act 20 allows corporations that export services from the island to pay only 4 percent tax. Act 22 goes much further: It makes Puerto Rico the only place on U.S. soil where personal income from capital gains, interest, and dividends are untaxed.