The most lively pie fight on the political blogosphere the past two days is over the forecast of the effect of Bernie Sanders' economic policies by University of Massachusetts-Amherst economist Gerald Friedman. According to Friedman, if Sanders' policies of free college education, national health care, new infrastructure spending, and increased Social Security benefits were actually implemented, the result would by a eye-popping annual GDP growth rate of 5.3 percent over ten years, with a net increase of 26 million new jobs.
Four former heads of the Council of Economic Advisers, under Presidents Clinton and Obama—Laura D'Andrea Tyson, Christina Romer, Austan Goolsbee, and Alan Krueger—
posted a joint letter
to Sanders and Friedman, denouncing Friedman's study for making "extreme claims… that cannot be supported by the economic evidence."
The graph below shows how successful Tyson, Romer, Goolsbee, and Krueger were at doing forecasting themselves. In two words:
NOT VERY.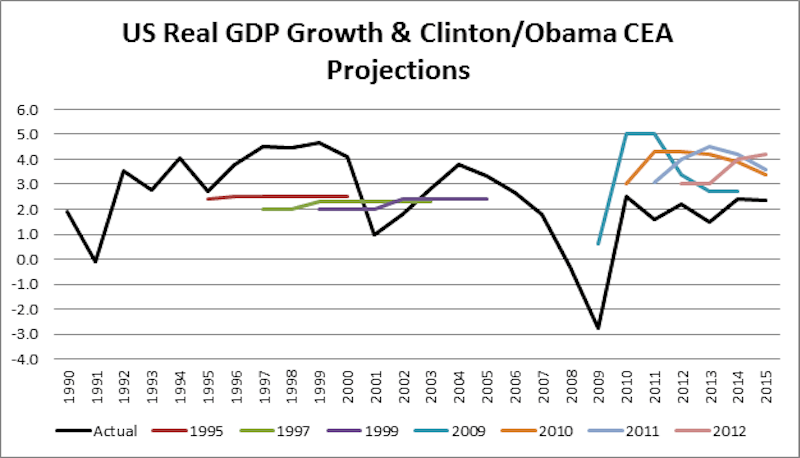 That graph is taken from David Dayen's article on today's website of
The New Republic
,
The Pious Attacks on Bernie Sanders's "Fuzzy" Economics
. It is a relentless smack-down of the honesty and competence of these critics.
For example, the 2010 EROP, overseen by then-Chair Christina Romer, made real GDP projections of 4.3 percent in 2011 and 2012, and 4.2 percent in 2013. This was wildly optimistic. According to Federal Reserve Economic Data, the actual real GDP growth rate in 2011 was 1.6 percent; in 2012, 2.2 percent; and in 2013, 1.5 percent.
And,
Goolsbee's claim in March 2007, after the housing bubble peaked and foreclosures began to skyrocket, that "the mortgage market has become more perfect, not more irresponsible" is perhaps one of the worst economic arguments of the past several decades.
In my judgement—and I have been writing about economics since the late 1980s—Tyson, Romer, Goolsbee, and Krueger are all
failures
, with no professional credibility left. Sound harsh? Well, actually, I think the same about almost every professional economist these days. Recall that in October 2009, the
Huffington Post revealed
that
over half of all professional economists in the United States have been paid by the Federal Reserve in some form or another.
Back in the presidency of Franklin Roosevelt, the Fed did not have the stranglehold on the economics profession it has now. Do you agree with Tyson, Romer, Goolsbee, and Krueger that it is outlandish to forecast 26 million new jobs in ten years? Well, try this out for size: in the winter of 1933-34, President Franklin Roosevelt's
Civil Works Administration (CWA), created over four million jobs in just one month.
Earlier today,
Illinibeatle posted about David Sirota's
little exercise in journalism of tracking the sources of income for Goolsbee and Tyson. Turns out they are doing quite well, thank you very much, in their cozy positions on Wall Street.
Now, this did not sit well with certain Hillary supporters. After all, they have been screaming to high heaven that Hillary has not been significantly influenced by the hundreds of thousands of dollars she has "earned" giving speeches to Wall Street banksters. (Though it must be galling to have it pointed out that this is exactly the
same position taken by the conservative majority of the Supreme Court in their infamous Citizens United decision
.)
Back in January 2008, when I assessed the economics teams of Edwards, Kucinich, Obama and Clinton (
Who will tell Wall Street to shove it?),
it was precisely because of Goolsbee's position as candidate Obama's top economic adviser that I concluded that if elected President, Obama would most likely surrender to Wall Street and fail to reverse the past four decades' descent into economic neo-liberlaism, a.k.a. radical conservative "free market" and "free trade" economics.
Looking back at that post right now, I think I called it exactly right:
None of the candidates – Republican or Democrat – are talking about these financial crises, and the economic onslaught they portend…. the next president of the United States is going to be dealing with an economic collapse. The extreme level of economic hardship that will likely result is going to make the population more open to radical solutions…
And I stand by what I forecast then:
Either we demolish the power of Wall Street and dismantle the structure of speculative finance and return to industrial capitalism and a Keynesian goal of full employment and wage growth, or the United States will cease to exist as a free, democratic republic in the next ten to twenty years… There is NO solution to these financial and economic crises within the presently accepted economic belief structure of U.S. elites.
So, the question of who is an economic adviser to which candidate for President, and where that economic adviser derives a livelihood, is not only a legitimate public concern, but is a crucial measure of how fit a particular candidate is, to be the leader of the free world.
Let me suggest that there are a few questions that comprise a short test of whether a particular economic adviser is going to help lead us into further neo-liberal economic deterioration and ruin, or will be a source of ideas and advice that will help us begin to rebuild our deindustrialized and decapitalised economy so that we have the capacity to begin to build the new
$359 trillion world economy needed
to solve the problem of global climate change.
1) Did this economist foresee the financial crises of 2007-2008?
2) Did this economist foresee that the American Recovery and Reinvestment Act of 2009 (the "Obama Stimulus") of $831 billion was woefully inadequate?
3) Does this economist recognize and accept the conclusions of the scientists and engineers who have "
worked the numbers
" on solving global climate change, that we need hundreds of trillions of dollars of new investment in clean energy and transportation systems over the next couple decades?
4) Does this economist recognize that the single most important power of the global elite straining to protect the
status quo
at this time, is that elite's monopoly over the creation and allocation of money and credit?
5) Did this economist oppose NAFTA and other free trade agreements, and warn that they would create a "race to the bottom"?
The answers to these questions, in my opinion, will easily peg any particular economic adviser as competent, or incompetent.
I am pretty sure that Tyson, Romer, Goolsbee, and Krueger failed all five of these questions. But, from the amount of echo-chamber posting of their attack on Friedman's study, there are apparently a lot of people out there, who like to think they are liberal and progressive, but who don't have a clue about how to judge economic competence and policies.